From Boss to Leader: Shifting Your Leadership Mindset for Growth
In the dynamic landscape of small businesses, leadership style can often be the secret ingredient that catalyzes success or accelerates failure. Leadership is not merely about delegating tasks, it's about cultivating an environment that nurtures growth, innovation, and the drive to exceed expectations. Yet, in the rush to meet targets and grow the bottom line, many business owners unintentionally position themselves as bosses, not leaders.
A boss gives orders; a leader inspires action. A boss focuses on tasks; a leader, on people. This seemingly subtle distinction can significantly impact your business's culture, productivity, and ultimately, its growth trajectory. The journey from boss to leader is a transformative one that requires self-awareness, perseverance, and a deep commitment to fostering a positive and empowering work environment.
Understanding the Difference Between a Boss and a Leader
It's important to grasp the fundamental differences between the two roles of boss and leader. Although the terms 'boss' and 'leader' are often used interchangeably, they denote two distinctly different styles of managing a team.
Definition and Characteristics of a Boss
A boss, in a traditional sense, is someone who is in charge of the workplace. They hold a position of authority and have the power to give orders and make decisions. The key characteristics of a boss often include a focus on tasks, an authoritative demeanor, and a tendency to control rather than collaborate.
Bosses may prioritize results over relationships, employing a top-down approach where instructions are given, and employees are expected to follow. They may also make most decisions unilaterally, without seeking input from their team. While this approach can be effective in some scenarios, it can also foster a restrictive environment that limits creativity, inhibits personal growth, and decreases overall job satisfaction.
Definition and Characteristics of a Leader
On the other hand, a leader inspires and motivates the team to achieve their best. They don't just manage people; they guide and mentor them. Leaders focus on relationships and foster a sense of collaboration and mutual respect. They lead by example and often put the needs of their team before their own.
A leader recognizes the unique strengths and abilities of each team member and delegates tasks accordingly. They encourage feedback, promote open communication, and value the opinions of their team. Leaders cultivate an environment that encourages innovation and creativity, and they recognize and celebrate team accomplishments. This approach can lead to a motivated, dedicated team and a positive work culture, which in turn drives business growth.
Comparative Analysis Between a Boss and a Leader
The essential difference between a boss and a leader lies in their approach to people and tasks. A boss tends to be task-oriented, focusing on the completion of tasks and often prioritizing results over the welfare of their team members. In contrast, a leader is people-oriented, prioritizing the development of their team and fostering an environment where people feel valued, heard, and inspired to do their best.
It's crucial to note that a boss isn't inherently negative, nor is a leader inherently positive. However, studies have shown that a leadership approach—marked by openness, inclusivity, and a focus on people—tends to yield better results in terms of employee satisfaction, retention, and overall business performance [1].
The Necessity of Shifting From Boss to Leader
Why should you, as a small business owner, care about these distinctions between a boss and a leader? Why is it necessary to make the shift from boss to leader?
The Impact of Leadership Style on Business Growth
Leadership style significantly influences the culture, motivation, and productivity of your team, which directly impacts your business's growth potential. While a boss's authoritative style can generate results in the short term, it often fails to inspire loyalty, innovation, and dedication—three critical components for sustained business growth.
On the other hand, a leader's people-centered approach cultivates a motivated, innovative, and committed team. Leaders who empower their employees often see higher levels of creativity and initiative, leading to improved problem-solving capabilities and better overall business performance.
Evidence and Examples of Successful Leadership in Small Businesses
There are numerous examples of successful businesses that attribute their success to a leadership-focused culture. Google, for instance, consistently ranks as one of the best places to work, largely due to its focus on employee satisfaction, openness, and a leader's approach rather than a boss's. They've demonstrated that prioritizing people can lead to impressive innovation and growth.
Even within the realm of small businesses, many success stories underscore the importance of leadership. For instance, companies like Basecamp, a small software company, have made headlines for their people-first approach, resulting in high employee satisfaction, retention, and ultimately, business growth [2].
The Need for a Shift in Mindset
Given the direct impact of leadership style on business growth and the numerous success stories, it's clear that a shift in mindset from boss to leader is not just preferable—it's necessary for sustained success. This shift is especially crucial for small businesses, where each team member plays a pivotal role, and the work culture significantly impacts overall performance.
While the boss's approach might provide structure and control, a leader's approach fosters empowerment and engagement. By cultivating a culture of leadership, you can inspire your team to achieve more than just the completion of tasks; you motivate them to contribute to the company's growth and success actively.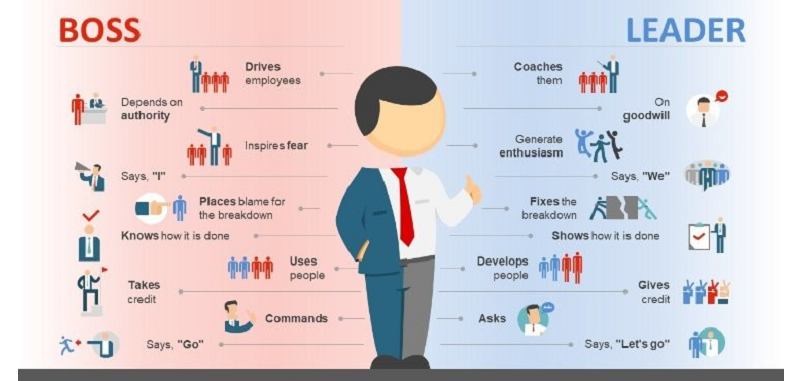 Steps to Transition From Boss to Leader
Acknowledging the need for a shift in your leadership style is the first step towards transformation. However, becoming a leader from a boss is not an overnight process. It requires self-reflection, learning, and consistent effort.
Self-Awareness: Recognizing Your Current Leadership Style
The journey towards becoming a leader begins with understanding your current leadership style. It requires honest self-assessment and perhaps even seeking feedback from your team. Identify your management habits, communication style, and how you handle challenges. Do you often make unilateral decisions, or do you seek input from your team? Do you focus more on tasks than the people responsible for them? This reflection will provide a baseline for your transition.
Self-Improvement: Developing Essential Leadership Skills
Once you're aware of your current style, the next step is to focus on developing the skills that distinguish a leader. This includes effective communication, emotional intelligence, empathy, and the ability to inspire and motivate others. Consider participating in leadership training programs, reading books on leadership, or seeking a mentor. Remember, leadership is not a destination but a journey of continuous learning and growth [3].
Communication: Building Trust and Open Dialogue with Your Team
A crucial aspect of leadership is open and transparent communication. Strive to build trust with your team by sharing information, explaining your decisions, and most importantly, listening. Encourage dialogue and welcome feedback. This not only helps you understand your team's needs and perspectives but also fosters a sense of belonging and engagement within the team.
Empowerment: Fostering Autonomy and Encouraging Innovation
Empower your team members by giving them the autonomy to make decisions related to their work. Rather than micromanaging, trust their abilities and give them room to learn and grow. Encourage them to innovate and share their ideas. When people feel trusted and empowered, they are more likely to take initiative and contribute to the business's success actively.
Consistency: Maintaining Your New Leadership Approach
Finally, remember that consistency is key. Changing your leadership style is not about making a one-time effort. It's about integrating these changes into your daily interactions with your team. Be patient with yourself; it's okay to make mistakes along the way. What's important is to learn from these mistakes and stay committed to your journey of becoming a leader.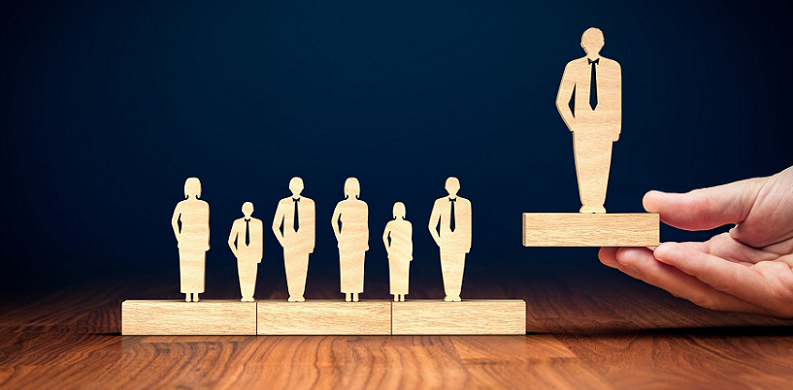 Overcoming Challenges in the Transition
Transitioning from a boss to a leader is an enriching journey of personal and professional growth. However, it may not be without its challenges. It requires moving out of your comfort zone, embracing change, and staying committed despite potential hurdles.
Identifying Potential Obstacles in the Shift
There are several potential challenges you might face during this transition. These can range from resistance to change (from yourself or team members), difficulty letting go of control, or fear of losing authority. Additionally, learning new leadership skills and incorporating them into your management style can be daunting and might even impact your confidence initially [4].
Strategies to Overcome Resistance and Hurdles
Overcoming these challenges starts with acknowledging them and understanding that they are a natural part of any significant change. Here are some strategies to tackle these obstacles:
Communicate the Change: Ensure your team understands why you are changing your leadership style and what they can expect moving forward. This transparency can reduce resistance and encourage support.
Seek Support: Don't hesitate to seek support during this transition. This could be from a mentor, a professional coach, or even fellow business owners who've made similar shifts in their leadership styles.
Small Steps: Remember, becoming a leader doesn't happen overnight. Break down your transition into manageable steps. Celebrate small victories to boost your confidence.
Be Patient: Change takes time. Don't be hard on yourself if you make mistakes or if the transition is slower than anticipated. Maintain a learning mindset and stay committed to your growth journey.
Persistence: Staying Committed to the Transition
Perhaps the most important aspect of overcoming challenges during this transition is persistence. Despite any hurdles you might face, stay focused on your ultimate goal: becoming a leader who inspires, empowers, and motivates their team towards growth. Remember, every challenge you overcome is a step towards becoming a better leader and driving your business's success.
Measuring the Impact of Your Leadership Transition
Transitioning from a boss to a leader is an ongoing process, and the results of this shift often manifest over time. Nevertheless, measuring the impact of your leadership transition is vital to ensure you're moving in the right direction.
Key Performance Indicators (KPIs) for Leadership
There are several KPIs that can provide insights into your leadership effectiveness [5]. Here are a few:
Employee Turnover Rate: Leaders often foster a positive work environment that encourages employees to stay. If your turnover rate decreases, it can indicate successful leadership.
Employee Engagement: Higher levels of engagement often signal good leadership. Surveys or regular check-ins can help measure this.
Productivity Metrics: If your team's productivity improves after implementing your new leadership style, it's a good sign your transition is having a positive impact.
Feedback from Team: Direct feedback from your team can be a rich source of information about your leadership effectiveness.
Employee Surveys and Feedback
One of the best ways to understand the impact of your leadership transition is to ask your team directly. Anonymous employee surveys can provide valuable insights into how your team perceives your leadership style and whether they feel more engaged and motivated.
Observational Changes
Some effects of your leadership transition may not be quantifiable but are still significant. For example, are team meetings more collaborative? Is there more open communication within the team? Do team members show more initiative and creativity? These observational changes can be potent indicators of a successful transition.
Remember, it's crucial to regularly assess the impact of your leadership style changes. It will not only help you track your progress but also provide valuable insights for further growth and improvement.
References

[1] The Mindset That Sets Apart Great Leaders
[2] Growth: The Future Leader Mindset Shift
[3] 3 Mindset Shifts That Will Make You a Better Leader
[4] To Be a Great Leader, You Need the Right Mindset
[5] Growth Mindset: Why It's Needed for Successful Leadership