THE BIOGRAPHY OF DJANGO REINHARDT, GYPSY GUITARIST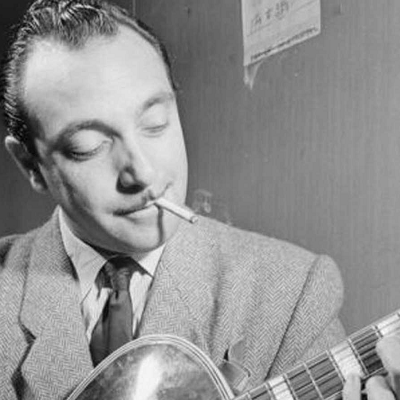 Django Reinhardt was the first hugely influential jazz figure to emerge from Europe – and he remains the most influential European to this day, with possible competition from Joe Zawinul, George Shearing, John McLaughlin, his old cohort Stephane Grappelli and a bare handful of others. A free-spirited gypsy, Reinhardt wasn't the most reliable person in the world, frequently wandering off into the countryside on a whim.
Yet Reinhardt came up with a unique way of propelling the humble acoustic guitar into the front line of a jazz combo in the days before amplification became widespread. He would spin joyous, arcing, marvelously inflected solos above the thrumming base of two rhythm guitars and a bass, with Grappelli's elegantly gliding violin serving as the perfect foil. His harmonic concepts were startling for their time — making a direct impression upon Charlie Christian and Les Paul, among others — and he was an energizing rhythm guitarist behind Grappelli, pushing their groups into a higher gear.
Not only did Reinhardt put his stamp upon jazz, his string band music also had an impact upon the parallel development of Western swing, which eventually fed into the wellspring of what is now called country music. His style of gypsy music has become so popular that many musicians today attempt to master it The best way to do that is to get Django songs that come with the transcriptions.
Although he could not read music, with Grappelli and on his own, Reinhardt composed several winsome, highly original tunes like "Daphne," "Nuages" and "Manoir de Mes Reves," as well as mad swingers like "Minor Swing" and the ode to his record label of the '30s, "Stomping at Decca." As the late Ralph Gleason said about Django's recordings, "They were European and they were French and they were still jazz."
A violinist first and a guitarist later, Jean Baptiste "Django" Reinhardt grew up in a gypsy camp near Paris where he absorbed the gypsy strain into his music. A disastrous caravan fire in 1928 badly burned his left hand, depriving him of the use of the fourth and fifth fingers, but the resourceful Reinhardt figured out a novel fingering system to get around the problem that probably accounts for some of the originality of his style. According to one story, during his recovery period, Reinhardt was introduced to American jazz when he found a 78 RPM disc of Louis Armstrong's "Dallas Blues" at an Orleans flea market.
He then resumed his career playing in Parisian cafes until one day in 1934 when Hot Club chief Pierre Nourry proposed the idea of an all-string band to Reinhardt and Grappelli. Thus was born the Quintet of the Hot Club of France, which quickly became an international draw thanks to a long, splendid series of Ultraphone, Decca and HMV recordings.
The outbreak of war in 1939 broke up the Quintette, with Grappelli remaining in London where the group was playing and Reinhardt returning to France. During the war years, he led a big band, another quintet with clarinetist Hubert Rostaing in place of Grappelli, and after the liberation of Paris, recorded with such visiting American jazzmen as Mel Powell, Peanuts Hucko and Ray McKinley. In 1946, Reinhardt took up the electric guitar and toured America as a soloist with the Duke Ellington band but his appearances were poorly received.
Some of his recordings on electric guitar late in his life are bop escapades where his playing sounds frantic and jagged, a world apart from the jubilant swing of old. However, starting in Jan. 1946, Reinhardt and Grappelli held several sporadic reunions where the bop influences are more subtly integrated into the old, still-fizzing swing format. In the 1950s, Reinhardt became more reclusive, remaining in Europe, playing and recording now and then until his death from a stroke in 1953. His Hot Club recordings from the `30s are his most irresistible legacy; their spirit and sound can be felt in current groups like Holland's Rosenberg Trio.