Why Your Startup Might Benefit from a B Corporation Structure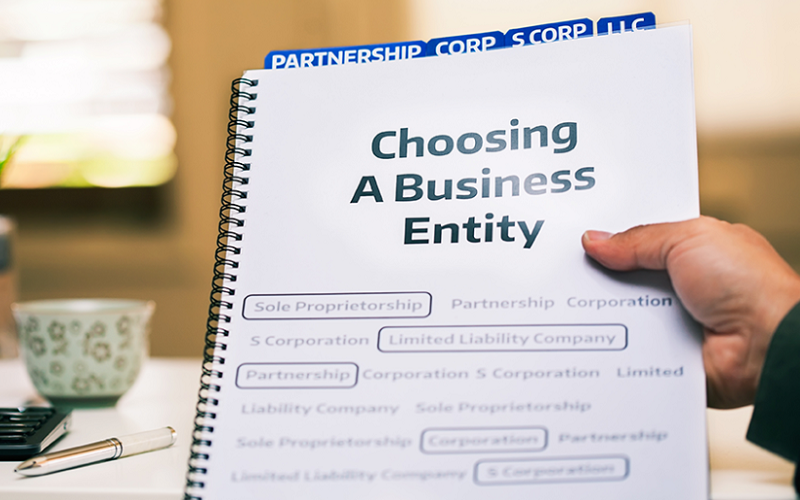 In today's rapidly evolving business landscape, startups are not just about profits — they're about purpose. The way a startup structures itself can profoundly impact its mission, operations, and even its bottom line. Among the myriad of options available, the B Corporation structure stands out as a beacon for companies looking to blend business with societal impact. But what exactly is a B Corporation, and why should your startup consider this path? Dive into the compelling world of B Corporations with us and discover how this unique structure might be the perfect fit for your forward-thinking venture.
History and Evolution of B Corporations
Navigating the business world often requires an understanding of its ever-changing landscape and the various structures that have emerged over time. One particularly noteworthy development in the realm of business structures is the B Corporation.
The Emergence of Social Entrepreneurship
The late 20th and early 21st centuries marked a significant shift in the world of entrepreneurship. Businesses began to recognize that they could play a role in addressing some of the world's most pressing challenges, from climate change to social inequality. This period saw the rise of social entrepreneurs – individuals determined to build ventures that not only generate profit but also bring about positive social and environmental change. While many of these pioneers started as nonprofits or NGOs, there was a growing recognition that for-profit enterprises could also drive societal impact. However, traditional corporate structures did not always accommodate or prioritize these dual objectives of profit and purpose. Enter the B Corporation.
Origins of the B Corporation Movement
In 2006, three Stanford alumni, Jay Coen Gilbert, Bart Houlahan, and Andrew Kassoy, launched the idea of a new kind of business entity — one that could bridge the gap between traditional for-profit corporations and non-profits. They established B Lab, a non-profit organization, with the goal to serve a global movement of people using business as a force for good.
The "B" in B Corporation stands for "Beneficial," emphasizing the dual purpose of these entities: to benefit both shareholders and society. Unlike traditional corporations, B Corporations commit to creating general public benefit, whether environmental, social, or both, while also generating profit. This was revolutionary at the time, as it redefined success in business. Instead of solely focusing on monetary returns, B Corporations evaluate their success based on their impact on their workers, customers, suppliers, community, and the environment.
In 2010, Maryland became the first U.S. state to legally recognize Benefit Corporations as a new business form, allowing companies to embed their social and environmental missions into their legal DNA. This move set a precedent, and numerous other states and countries soon followed suit, establishing legal frameworks to recognize and support B Corporations.
Today, the B Corporation movement has grown exponentially, with thousands of companies worldwide choosing to certify and commit to higher standards of transparency, accountability, and performance.
In tracing the history and evolution of B Corporations, it becomes evident that these entities are not just a trend but represent a fundamental shift in how we conceive the role and responsibility of businesses in society. They challenge the age-old notion that the sole purpose of business is profit, proposing instead a more holistic, integrated vision of success [1].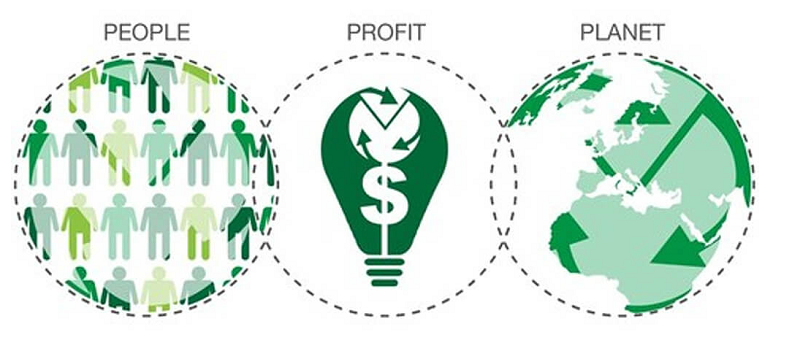 Understanding B Corporation Certification
Choosing the right business structure is a decision that comes with significant implications for operations, governance, and branding. When considering the B Corporation model, it's not merely about understanding its history but also the nitty-gritty details of its certification.
Requirements for Certification
Becoming a B Corporation is more than just a declaration of intent; it involves meeting specific and rigorous standards of social and environmental performance, accountability, and transparency. Here are the key requirements for obtaining a B Corporation certification.
Performance Standard
Companies must score a minimum of 80 out of 200 points on the B Impact Assessment (BIA), a comprehensive evaluation tool that examines a company's impact on its workers, community, customers, and environment.
Legal Requirement
Depending on the jurisdiction, businesses may need to incorporate as a Benefit Corporation or make changes to their governing documents to ensure alignment with their stakeholder commitments. This legal shift ensures that directors and officers consider the impact of their decisions not only on shareholders but also on the community and environment.
Transparency Requirement
Certified B Corporations must publish a portion of their BIA on the B Corp website, making their social and environmental performance transparent to the public [2].
Recertification
This isn't a one-time commitment. Companies need to recertify every three years to ensure they maintain (or exceed) the standards set out by B Lab.
The Difference between a B Corp and a Traditional Corporation
At its core, the distinction between a B Corporation and a traditional corporation lies in purpose, accountability, and transparency.
Purpose
While traditional corporations are predominantly driven by shareholder returns, B Corporations balance profit with broader societal benefits. Their legally defined goals include creating a positive impact on the environment, workers, communities, and consumers.
Accountability
B Corporations are accountable to not just their shareholders but also to the communities and environments in which they operate. They're bound to consider the broader impact of their decisions rather than solely focusing on financial returns.
Transparency
While many companies might have internal evaluations or undisclosed CSR initiatives, B Corporations commit to transparency by sharing their social and environmental performance with the public. This openness fosters trust and holds the corporations accountable to their stakeholders and the wider community.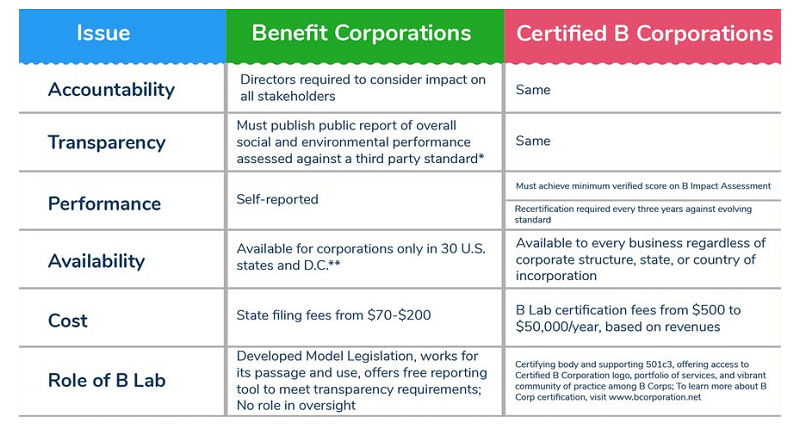 Top Benefits of Adopting a B Corporation Structure
In the rapidly evolving world of business, startups continually seek unique ways to differentiate themselves, create lasting impact, and drive sustainable growth. The B Corporation structure, as we've discovered, represents a blend of profit and purpose. But what tangible benefits does this model offer?
Enhanced Corporate Responsibility
In an age where consumers are more conscious of the values and ethics behind the brands they support, corporate responsibility is no longer a mere buzzword—it's a competitive advantage.
Environmental Initiatives
B Corporations are often at the forefront of sustainable business practices. Whether it's through resource conservation, carbon footprint reduction, or sustainable sourcing, these entities prioritize environmental stewardship. By aligning with this structure, startups signal their commitment to a greener planet, drawing in eco-conscious consumers and partners.
Social Impact
Beyond the environment, B Corporations strive to create positive societal change. This can range from fair labor practices and inclusive hiring to community engagement and support. By championing these values, startups can foster stronger community ties and build brand loyalty.
Increased Trust and Credibility with Consumers
In an era where information is at our fingertips, consumers are more informed and discerning about their choices. Trust, once lost, is hard to regain.
Transparency
The rigorous standards and public disclosure requirements of B Corporations engender transparency. When consumers can readily access information on a company's societal and environmental impacts, it builds trust [3].
Certification Seal
The B Corp certification is a seal of approval that assures consumers of a company's commitment to do good. This can be a strong differentiator in crowded markets, elevating a brand's credibility and appeal.
Attracting and Retaining Talent
People don't just work for paychecks; they work for purpose. In today's competitive job market, a company's values and mission can be as crucial as compensation and benefits.
Aligned Values
Many of today's professionals, especially millennials and Gen Z, prioritize working for organizations that resonate with their personal values. A B Corporation structure signals a commitment to broader societal goals, attracting like-minded talent.
Employee Engagement and Retention
Employees who believe in their company's mission are more engaged, motivated, and likely to stay longer. A sense of purpose and the knowledge that one's work contributes to a greater good can be powerful motivators.
Potential for Tax Advantages and Other Incentives
Though the primary drive for many B Corporations is societal and environmental impact, there can also be tangible financial benefits.
Tax Benefits
Some jurisdictions offer tax incentives or credits to certified B Corporations or Benefit Corporations, recognizing their contribution to broader societal goals.
Access to Funding
As impact investing gains traction, many investors and funds prioritize businesses that align with social and environmental objectives. B Corporation certification can provide startups with a competitive edge in securing such funding.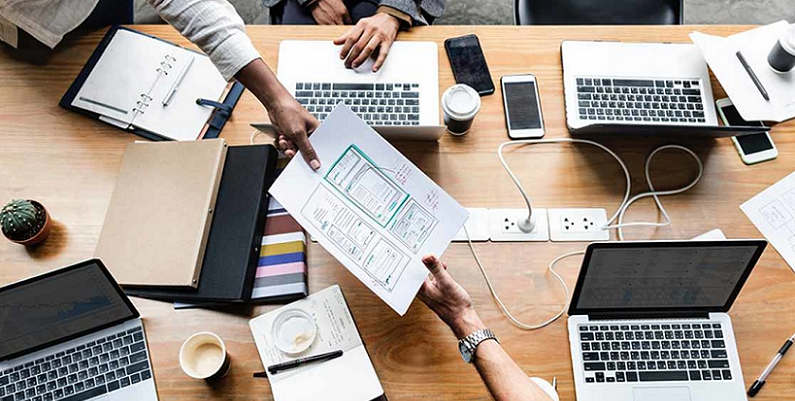 Challenges of B Corporation Structure
While the benefits of B Corporations are undeniably compelling, it's essential to approach this business model with a well-rounded perspective. Like any venture, adopting a B Corporation structure comes with its set of challenges. Being informed about these potential hurdles ensures that businesses can navigate them effectively and make the most of their B Corp journey.
Rigorous Standards and Certification Process
The road to becoming a certified B Corporation isn't necessarily a walk in the park. The stringent requirements that make the certification so esteemed can also present challenges for startups [4].
Time and Effort
The B Impact Assessment (BIA) is thorough, and for good reason. However, preparing for and completing this assessment can be time-consuming, especially for smaller startups with limited resources.
Continuous Improvement
Because recertification is required every three years, companies can't rest on their laurels. This ongoing commitment demands resources, time, and consistent effort to maintain and improve standards.
Potential Costs of Certification
While the benefits can outweigh the costs in the long run, it's crucial for startups to be aware of the immediate financial implications.
Certification Fees
B Lab charges fees for certification, which vary based on a company's annual sales. For some startups, especially those in the early stages with tight budgets, this can be a significant outlay.
Operational Changes
Meeting the B Corp standards might necessitate operational shifts, such as sourcing more sustainable materials or implementing new employee welfare programs. While these changes align with the B Corp ethos, they can entail additional costs.
Striking a Balance between Profit and Purpose
One of the core challenges of the B Corporation structure is its dual mission: profit and societal benefit. Striking the right balance can be intricate.
Stakeholder Expectations
While many stakeholders applaud the societal and environmental initiatives of B Corporations, others, particularly certain investors, might prioritize profit. Navigating these differing expectations can be challenging.
Operational Decisions
Every business decision, from sourcing to product pricing, becomes a balancing act. While sustainable choices are favored, they might not always align with short-term profitability. Determining the right path can sometimes pose dilemmas.
Steps to Transition to or Start as a B Corporation
Making the decision to either start as a B Corporation or transition your existing company into one is commendable. However, this decision is only the beginning of a rewarding journey that requires careful planning and strategic steps. Whether you're a budding entrepreneur with a vision or an established business leader seeking change, here's a roadmap to help guide your transition to a B Corporation.
Assessing Your Current Position
Before diving into the process, it's pivotal to understand where your company currently stands in terms of its social and environmental practices [5].
Self-Evaluation
Review your company's mission, values, and existing practices. How closely do they align with the B Corporation ethos? This introspection can help highlight areas that need attention and adjustment.
Gap Analysis
Utilize tools and resources available on the B Lab website to understand the criteria for certification. Identify where your company excels and where there are gaps to bridge.
Committing to the B Corporation Standards
Understanding the requirements is one thing; committing to meeting and maintaining them is another.
Stakeholder Engagement
Engage with key stakeholders, including employees, investors, and suppliers, to communicate your intent and garner support for the transition.
Legal Transition
Depending on your jurisdiction, you may need to transition to a Benefit Corporation legally or adjust your company's governing documents to reflect your commitment to broader stakeholder benefits.
Preparing for the B Impact Assessment (BIA)
The BIA is at the heart of the B Corporation certification process, and preparation is key.
Gather Necessary Data
Ensure you have all the required information related to your company's operations, governance, social impact, and environmental practices.
Engage Key Departments
Involve relevant departments or teams that can provide insights and data for the BIA. This could include HR for employee-related metrics or operations for environmental data.
Undergoing the Certification Process
With preparation in place, it's time to delve into the actual certification.
Complete the BIA
This online assessment will evaluate your company's overall impact on its stakeholders. Ensure accuracy and comprehensiveness in your responses.
Review and Verification
Post-submission, B Lab will review your assessment and may request additional evidence or clarification on certain aspects. Be prepared to provide documentation or engage in follow-up interviews.
Meet Legal Requirements
Ensure all legal adjustments are made, whether it's transitioning to a Benefit Corporation or amending existing governing documents.
Pay the Certification Fee
Once you've met the certification requirements, you'll need to pay the appropriate fee based on your company's annual sales.
Continuous Improvement and Recertification
Becoming a B Corporation is an ongoing commitment, not a one-time achievement.
Monitor and Adapt
Regularly review and adjust your business practices to ensure alignment with B Corporation standards, especially as your company grows or industry standards evolve.
Engage in the B Corp Community
Join forums, attend conferences, and collaborate with other B Corporations to share best practices and learn from others.
Recertification
Every three years, you'll undergo the recertification process to ensure that your company continues to uphold the high standards set by B Lab.
References

[1] A Complete Guide to Starting a B Corp
[2] B Corp Certification for Startups: The Complete Guide
[3] An Entrepreneur's Guide to Certified B Corporations and Benefit Corporations
[4] What is a B-Corp?
[5] Why Companies Are Becoming B Corporations