Mission Statement vs. Vision Statement: Understanding the Difference
In the bustling world of business, having a clear direction is paramount. Every entrepreneur and team member needs a roadmap – a guiding light to illuminate the path ahead. Enter the mission and vision statements: two foundational tools that, while sometimes used interchangeably, serve distinct purposes. Each captures a different facet of a business's essence, intent, and aspirations. But what sets them apart? And why should businesses be meticulous in crafting both? Here we explore the core of these statements, uncovering their unique roles and showcasing why discerning between them can set a business on the trajectory for success.
Introduction to Mission and Vision Statements
In the bustling world of business, having a clear direction is paramount. Every entrepreneur and team member needs a roadmap – a guiding light to illuminate the path ahead. Enter the mission and vision statements: two foundational tools that, while sometimes used interchangeably, serve distinct purposes. Each captures a different facet of a business's essence, intent, and aspirations.
Definition of Mission and Vision Statements
Before diving into the intricacies, let's set a foundational understanding. A mission statement describes a company's core purpose and present operations, answering questions about who the company is, what it does, and who it serves. On the other hand, a vision statement offers a future-focused view, encapsulating the aspirations, long-term goals, and the desired impact a business aims to achieve in its industry or community.
Importance of Differentiating the Two for Businesses
Understanding the distinction between mission and vision statements isn't merely a semantic exercise. It's about alignment and clarity. For businesses, especially burgeoning startups, knowing the difference can assist in steering strategy, motivating teams, and resonating more effectively with their target audience. Moreover, these statements can act as a compass during challenging times, reminding businesses of their foundational principles and long-term objectives.

Mission Statement: Delving Deep
At the heart of every business lies its mission statement, a declaration that embodies its core reason for existence. This crucial piece of business communication articulates the fundamental beliefs and values that drive an organization.
Definition and Purpose
The mission statement is like the DNA of a company. It defines who you are and what you stand for as a business. It's a concise expression of a company's core purpose, laying out the objectives for its day-to-day operations [1].
Core Purpose of the Business
This centers around the reason a company exists beyond just making a profit. It dives deep into the heart of why a business was founded and the problems it aims to solve.
Day-to-Day Objectives
Beyond the overarching purpose, a mission can also encompass the primary activities a company undertakes to fulfill its core purpose. These could range from offering high-quality products to providing unmatched services.
Key Elements of a Mission Statement
Though mission statements can vary widely, they often converge on a few fundamental elements that encapsulate the essence of the business.
Who the Company Is
This provides insight into the company's identity, culture, and values. It's about the traits and characteristics that make a business unique.
What the Company Does
This is a concise description of the company's primary activities, products, or services. It answers the basic question: What does the business do?
Who the Company Serves
This highlights the target audience or clientele. It defines the community or group of people the company aims to serve or impact.
Examples of Effective Mission Statements
To provide clarity, let's look at a couple of real-world mission statements that stand out:
Nike
"To bring inspiration and innovation to every athlete* in the world. (*If you have a body, you are an athlete.)"
Starbucks
"To inspire and nurture the human spirit – one person, one cup, and one neighborhood at a time."
These statements not only describe what the companies do but also evoke emotion, resonate with their audience, and underline their core values.
Benefits of a Well-Defined Mission Statement
A well-crafted mission statement is more than just words; it has tangible benefits for businesses:
Directs Day-to-Day Operations
It serves as a guidepost for daily business activities, ensuring that actions align with the company's core purpose.
Provides Clarity for Employees
Employees can find motivation and direction in a clear mission, knowing the broader purpose behind their daily tasks [2].
Sets Business Apart from Competitors
A unique mission statement can differentiate a business in a crowded market, giving it a distinct identity.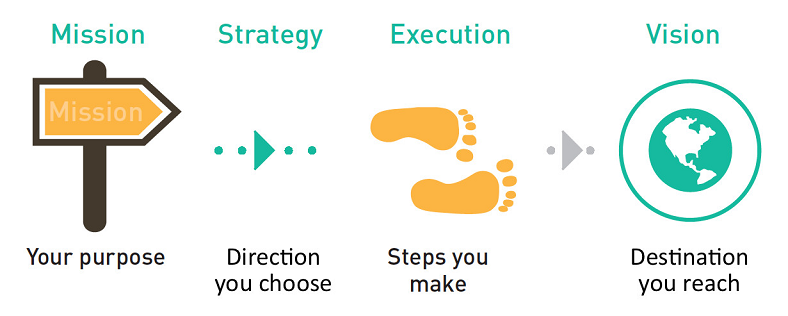 Vision Statement: Looking Ahead
While the mission statement anchors a business in its present reality, the vision statement propels it into the future. It's a beacon, a dream of what the company aspires to become.
Definition and Purpose
A vision statement, at its core, is a company's aspirational proclamation of its future goals and where it sees itself in the long run.
Future Aspirations of the Business
This element captures the loftiest dreams and ambitions a company harbors. It's less about the 'now' and more about the 'what can be', painting a picture of a future where the company's goals have been realized.
Long-Term Objectives
These are the specific, often quantifiable, milestones a company aims to achieve in its journey towards its broader vision. They provide measurable steps towards realizing the aspirational future.
Key Elements of a Vision Statement
Even though vision statements are inherently futuristic, they do share some common components that ground them:
Future Position of the Business
This highlights where a company envisions itself in its industry, market, or community in the coming years. Whether it's being an industry leader or a pioneering innovator, this element gives a glimpse of the company's desired status.
Impact on Community or Industry
It's not just about the company's position but the positive change or legacy it aims to leave behind, be it in technological advancements, community development, or environmental sustainability [3].
Inspirational or Motivational Aspect
A vision statement should inspire. It should motivate stakeholders, from employees to investors, to rally behind the company and its lofty dreams.
Examples of Compelling Vision Statements
To illuminate the concept further, let's examine some renowned vision statements:
Microsoft
"To empower every person and every organization on the planet to achieve more."
Disney
"To be one of the world's leading producers and providers of entertainment and information."
These vision statements not only elucidate the companies' future aspirations but also resonate deeply, inspiring stakeholders to align with their grand vision.
Benefits of a Clear Vision Statement
The power of a well-constructed vision statement extends beyond mere words:
Provides Long-Term Direction
It acts as a North Star, guiding the company through challenges and opportunities, ensuring it stays on its charted path.
Inspires and Motivates Teams
When employees understand and believe in the future the company aspires to create, they are more motivated to contribute to that shared vision.
Helps in Strategic Planning
A clear vision provides a foundation for setting strategic goals and formulating plans to achieve them.

Comparing and Contrasting: Mission vs. Vision
Now that we've dived deep into the individual realms of mission and vision statements, it's time to juxtapose them. By understanding their similarities and differences, businesses can craft statements that are not only distinct but also complementary.
Key Differences
While both mission and vision statements serve as foundational pillars for any business, they cater to different facets of an organization's identity and direction [4].
Temporal Focus
Present vs. Future: At its essence, a mission statement is about the present. It encapsulates what a company is doing now. Conversely, a vision statement is futuristic, highlighting what a company aspires to become or achieve.
Functionality
Doing vs. Aspiring: The mission revolves around the actions, services, or products a company currently offers, while the vision focuses on aspirations, dreams, and the broader impact a company wishes to make in the future.
Structure and Content
Typically, mission statements are more concrete and specific, highlighting current activities and target audiences. Vision statements, however, are broader and more abstract, often evoking feelings of inspiration and aspiration.
The Interrelation Between Mission and Vision
Though distinct, mission and vision statements are far from being isolated concepts. They intertwine in a way that brings cohesion to a company's overall strategy.
How One Can Influence the Other
A company's current mission can pave the way for its future vision. Conversely, a compelling vision can influence day-to-day operations and the mission's refinement.
The Balance Between Practicality and Aspiration
While the mission grounds a company in its current reality, ensuring practicality, the vision propels it forward, encouraging innovation and aspiration. Together, they strike a balance between what is and what could be.
Crafting Effective Mission and Vision Statements for Your Business
Equipped with a deep understanding of mission and vision statements, the next step for any budding or established business is to construct these statements with precision, care, and introspection. Crafting these statements isn't just about penning a couple of inspirational sentences; it's an exercise in self-discovery, market understanding, and strategic thinking.
Key Considerations Before Beginning
Before diving into the crafting process, it's essential to position yourself correctly. This means setting the right mindset and gathering crucial insights [5].
Business Values and Culture
Reflect on the core values that drive your business. What principles underpin your operations? What kind of organizational culture do you wish to foster?
Target Audience and Market Dynamics
Understand who your products or services cater to. What market niches do you aim to fill? What needs or gaps are you addressing?
Long-Term Goals and Aspirations
Where do you see your business in the next 5, 10, or even 20 years? What larger impact do you aspire to achieve?
Steps to Craft a Robust Mission Statement
The mission statement is the heart of your business. Here's a structured approach to make it resonate:
Identify Core Activities
What are the primary products, services, or solutions your business offers? This forms the foundational layer of your mission.
Define Your Unique Selling Proposition (USP)
In a saturated market, what sets you apart? It could be unparalleled quality, customer service, innovation, or even sustainability initiatives.
State the Beneficiaries
Highlight who benefits from your business – be it customers, communities, stakeholders, or even the environment.
Steps to Forge a Compelling Vision Statement
Constructing a vision statement is about dreaming big but staying anchored in reality.
Envision the Future
Let your imagination run wild. If all goes according to plan, where do you see your business in the distant future?
Incorporate Broader Impact Goals
Beyond profits and market share, how do you want your business to impact society, the industry, or even the world?
Make it Inspiring yet Achievable
While a vision should be ambitious, it should also feel achievable. It should inspire stakeholders to rally behind it, confident in its realization.
Refining and Iterating
The first draft of your mission and vision statements might not be perfect – and that's okay. These statements can evolve.
Seek Feedback
Engage employees, partners, and even select customers. Their insights can be invaluable in refining the statements.
Stay Open to Change
As your business grows and the market shifts, be ready to iterate and refine your statements to stay relevant and true to your evolving identity.
Revisit Regularly
Make it a habit to revisit and reflect upon your mission and vision statements periodically. This ensures alignment with your business's trajectory and aspirations.
References

[1] Mission vs. vision statements: definitions & examples
[2] Vision Statement vs. Mission Statement (With Examples)
[3] What Is the Difference Between Mission and Vision?
[4] Understanding the Difference Between a Vision Statement and a Mission Statement
[5] Mission Statements vs. Vision Statements