How a Mission Statement Supports Decision-Making in Business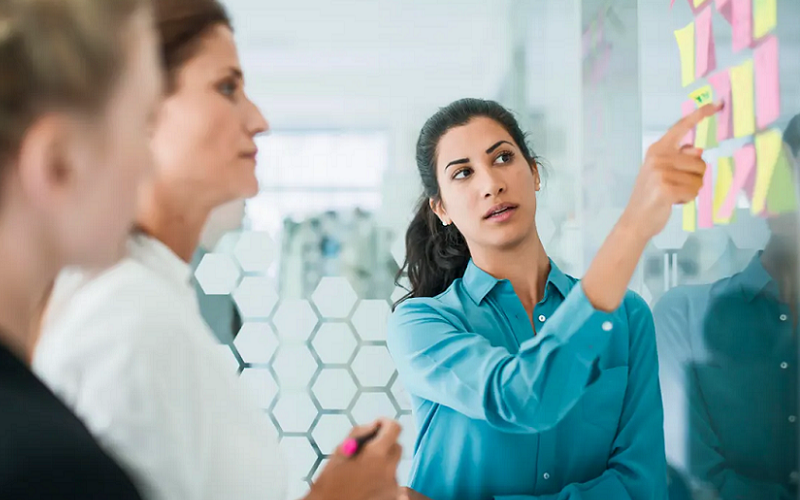 In the bustling world of business, where every decision can pivot the course of a company, having a compass is indispensable. Enter the mission statement: a succinct articulation of a company's purpose, goals, and values. While many view it as a mere decorative line on a website or a poster, its significance goes far beyond aesthetics. A mission statement isn't just words — it's the heart and soul of a company.
Definition and Basics of a Mission Statement
In the corporate landscape, buzzwords and jargon fly around freely, often losing their essence in translation. But when it comes to the term 'mission statement,' understanding its genuine meaning and components is paramount. A mission statement isn't just a catchy tagline; it's a declaration of a company's purpose, crystallized into a few powerful lines.
What is a Mission Statement?
At its core, a mission statement articulates the company's purpose and answers the pivotal question: Why does this business exist? It isn't about profit margins or market shares; it's about the deeper purpose. Whether it's serving the finest coffee, revolutionizing tech solutions, or promoting sustainable living, the mission captures the essence of what the company aims to achieve.
Elements of an Effective Mission Statement
Crafting an impactful mission statement goes beyond penning down lofty ideals. It demands clarity, focus, and authenticity. Here are some crucial elements that set the tone for an effective mission statement:
Clear Purpose: The primary goal of a mission statement is to clarify the company's raison d'être – its reason for existence. This purpose should be evident, steering clear of ambiguity.
Core Values: This refers to the guiding principles that the company stands by, no matter the circumstances. Values could range from integrity, customer-centricity, and innovation to sustainability.
Target Audience: Specifying whom the business serves helps in aligning operations and strategies. Whether it's tech enthusiasts, health-conscious consumers, or small businesses, knowing the target audience refines the mission's focus.
Inspiration: A good mission statement inspires. It should evoke emotions, stir motivation, and paint a vivid picture of what the business strives to accomplish.
Brevity: The power of a mission statement often lies in its brevity. It should be concise enough to be memorable but comprehensive enough to encapsulate the company's essence.
In essence, an effective mission statement serves as the foundation upon which businesses build their strategies, actions, and aspirations. It's the North Star guiding them through the turbulent waters of the business world, ensuring they remain on the right path [1].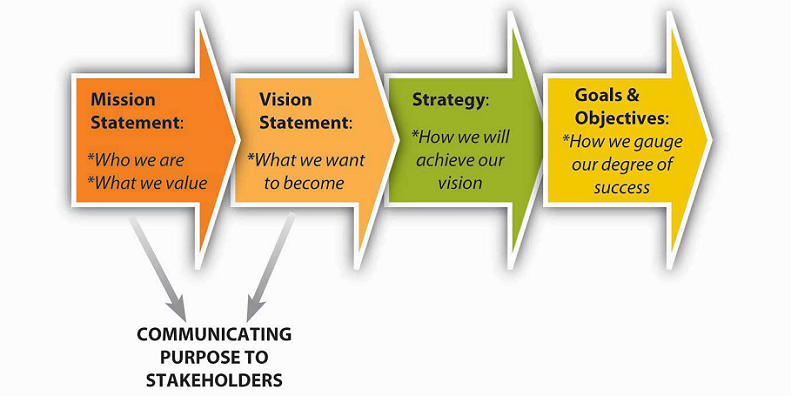 Purpose of a Mission Statement in Business
Delving deeper into the corporate universe, one might wonder: What gives the mission statement its gravitas? Is it merely a decorative element in annual reports and on office walls? Far from it. A mission statement's essence is in its ability to mold, influence, and direct a business in myriad ways. Let's unfold the layers of its significance.
Guiding Organizational Culture and Values
In the tapestry of an organization, every thread – every employee, strategy, and action – intertwines to create the larger picture. The mission statement, in this context, acts as the pattern guiding the design.
With a clear mission statement, every team member, from top leadership to interns, aligns with a shared vision. It becomes the glue binding individuals with diverse roles, experiences, and backgrounds.
Behavior Blueprint
Beyond just tasks and targets, a mission statement dictates the way team members interact, solve problems, and handle challenges. It serves as a blueprint for behavior, fostering an environment where the company's core values are evident in day-to-day actions.
Providing a Foundation for Business Goals
Every company has goals – revenue figures, market shares, innovation milestones. But how do these goals come into existence? And what ensures they aren't just numbers, but aligned with the company's essence?
Goal Genesis
The mission statement becomes the soil from which business goals sprout. Whether it's reaching a particular number of customers or expanding to new markets, the mission statement ensures that every goal has deep roots in the company's fundamental purpose.
Alignment and Focus
In a world of endless opportunities and distractions, it's easy for businesses to veer off track. A mission statement acts as a constant reminder of 'why' the company exists, ensuring goals and strategies don't drift from the central purpose [2].
Differentiating the Business from Competitors
In today's saturated marketplaces, standing out isn't just a competitive advantage; it's a necessity. Here's where the mission statement becomes a beacon.
Unique Identity
A well-crafted mission statement carves out a unique space for the business in the industry. It underlines what makes the company different and why customers should choose it over competitors.
Emotional Connection
Beyond products and services, consumers today seek brands they resonate with. A genuine mission statement establishes an emotional connection, transforming customers into loyal advocates.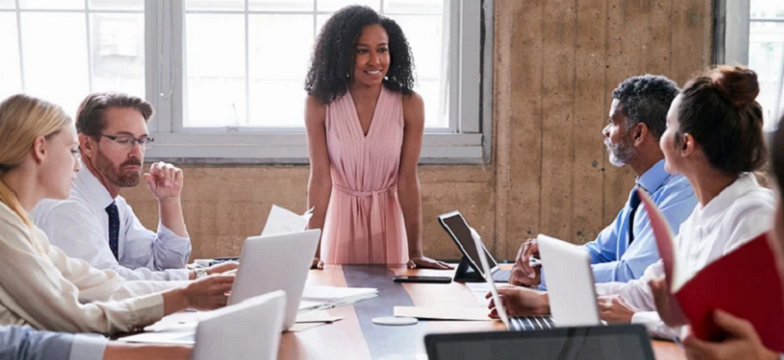 The Role of a Mission Statement in Decision-Making
Navigating the vast expanse of business choices often feels like steering a ship through unpredictable seas. With opportunities and challenges coming from every direction, how does a captain — or in this case, a business leader — decide which way to go? The answer, often, lies in the mission statement.
Using the Mission as a Touchstone for Strategic Choices
Every company, irrespective of its size or industry, faces a continuous stream of choices. These choices, strategic in nature, can determine the trajectory of the business.
Consistent Guidance
The mission statement, ever-present in the backdrop, serves as a touchstone. When faced with choices, leaders can reflect upon the mission to ensure decisions are not just beneficial but also in harmony with the company's core purpose.
Prioritizing Opportunities
Not every opportunity aligns with a company's mission. By using the mission statement as a benchmark, businesses can prioritize opportunities that resonate with their values and vision, while sidestepping those that may lead them astray.
Ensuring Alignment with Business Objectives
A mission statement isn't just a guiding star for the top brass. Every echelon of the organization can benefit from its wisdom, ensuring a cohesive approach to achieving business objectives.
Operational Decisions
On a day-to-day basis, managers and teams make countless decisions. By keeping the mission statement in focus, these decisions, whether related to hiring, product development, or marketing, can be better aligned with the company's objectives [3].
Resource Allocation
Whether it's budgeting for a new project or deciding on a marketing campaign's direction, the mission statement ensures resources are allocated in a manner that amplifies the company's purpose.
Filtering Decisions: Does it Fit with the Mission?
One of the simplest, yet most profound, uses of a mission statement is as a filter. It's a sieve that helps companies separate decisions that fit their ethos from those that don't.
Ethical Considerations
Especially in gray areas, where the right choice isn't glaringly obvious, the mission statement can serve as a moral compass, helping businesses stay true to their values.
Long-Term vs. Short-Term
In the rush to achieve quarterly targets or respond to market pressures, companies might be tempted to make short-sighted decisions. The mission statement, with its long-term vision, helps balance immediate gains with sustainable growth.
Enhancing Stakeholder Trust and Communication
In the age of information, transparency isn't just desired; it's demanded. Stakeholders, be they investors, employees, or customers, seek businesses they can trust.
Predictable Decision-Making
When decisions consistently reflect a company's mission, it establishes a pattern. Stakeholders can anticipate and trust the company's moves, leading to increased confidence and loyalty.
Open Dialogue
A clear mission statement provides a basis for meaningful conversations with stakeholders. It sets the stage for discussions about company choices, offering a shared foundation from which to address concerns or share visions for the future.
The Benefits of Mission-Driven Decision Making
Having traversed the intricacies of how mission statements guide decisions, one might naturally ponder the fruits of this alignment. What tangible and intangible rewards do businesses reap when they allow their mission to steer their choices?
Improved Organizational Cohesion and Morale
There's a certain magic when everyone in a room feels connected, working towards a shared goal. A mission-driven approach to decision-making fosters such an environment.
Unified Vision
When all decisions tie back to the mission, it creates a harmonious thread linking every department, team, and individual. This unity fosters collaboration and breaks down siloed thinking [4].
Boosted Morale
Employees find deeper satisfaction and motivation when they see their daily tasks as contributions towards a larger purpose. The mission statement provides this sense of belonging and purpose.
Enhanced Business Performance and Growth
The alignment of decisions with the mission doesn't just elevate spirits; it also impacts the bottom line.
Streamlined Strategies
By constantly referring to the mission, businesses can avoid the pitfalls of disjointed strategies. Every action, campaign, and initiative is more likely to be cohesive, resulting in more efficient operations.
Sustainable Growth
Companies that stay true to their mission often enjoy sustained growth. Their commitment to their core purpose ensures they don't chase fleeting trends but invest in avenues promising long-term returns.
Stronger Brand Identity and Customer Loyalty
In today's marketplace, consumers resonate with brands that stand for something. Mission-driven decision-making accentuates a brand's identity and fosters loyalty.
Distinctive Brand Voice
Brands that weave their mission into their decisions carve out a unique voice in the market. This voice, consistent and authentic, makes them stand out in the cacophony of competitors.
Emotional Bonds
Customers tend to form deeper connections with brands that remain steadfast to their mission. These emotional bonds aren't just about liking a brand; they're about trusting and advocating for it.
Streamlined Strategic Planning and Execution
With the mission statement as the North Star, the roadmap for businesses becomes clearer and more focused.
Clearer Priorities
Decision-makers can more readily identify which opportunities to pursue and which ones to pass on, ensuring resources are spent on initiatives that matter the most.
Efficient Execution
When the entire organization is aligned with the mission, execution becomes smoother. Teams know what they're working towards, reducing the likelihood of misunderstandings and misaligned objectives.
How to Create or Refine a Mission Statement for Better Decision Making
Having underscored the paramount importance of a mission statement in decision-making, the inevitable question arises: How can one craft or refine this pivotal document to better guide their business?
Understanding the Core Purpose of Your Business
The journey to an authentic mission statement begins with introspection. Before penning down words, one must grasp the heart and soul of the business.
Deep Dive
Organize brainstorming sessions, discussions, or workshops to uncover the primary reason your business exists beyond just making money. What gap does it aim to fill in the market or society?
Stakeholder Perspectives
Engage with stakeholders, including employees, customers, and investors. Their insights can provide a more rounded understanding of the company's core purpose [5].
Identifying and Embracing Core Values
Values are the pillars that uphold your mission. Identifying and embracing them ensures that your mission statement stands firm against the test of time and challenges.
List and Prioritize
Create a list of values that resonate with the business ethos. These could be excellence, innovation, community, or sustainability. Prioritize and select the ones that genuinely reflect your business's spirit.
Test for Authenticity
Ensure the values aren't just aspirational but are genuinely practiced in the organization. A mission based on authentic values is more likely to be embraced at all levels.
Incorporating Clear, Concise, and Compelling Language
The potency of a mission statement is often in its clarity and brevity. Crafting it requires precision and a touch of inspiration.
Simplicity is Key
Avoid jargon or overly complex language. The mission should be comprehensible to anyone, from a board member to a new hire or even a customer.
Evocative Imagery
While brevity is essential, the language should inspire and evoke a sense of purpose. It should paint a vivid picture of the business's aspirations.
Regularly Reviewing and Refining
The business world isn't static, and neither should your mission statement be. Periodic refinement ensures it remains relevant and effective.
Scheduled Reviews
Dedicate time, perhaps annually or biennially, to review the mission statement. Evaluate its relevance in the current business climate and make necessary tweaks.
Stay Open to Feedback
Encourage feedback from internal and external stakeholders. Fresh perspectives can shed light on areas that might need refinement or reemphasis.
References

[1] How to Bring Your Mission to the Forefront of Decision-Making
[2] The Roles of Mission, Vision, and Values
[3] Mission Statement
[4] Vision vs. Mission Statement: What's the Difference?
[5] Mission statements