Crafting a Business Plan Vision Statement That Inspires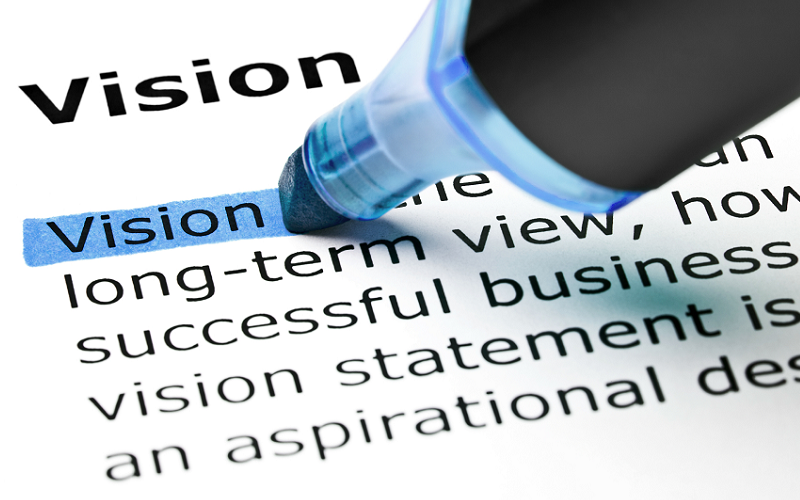 In the dynamic world of business, setting a clear and compelling direction is crucial. Here we empower entrepreneurs and business leaders with the tools and knowledge needed to create a vision statement that not only maps the future but also ignites passion. A vision statement is more than just a formality in business planning; it's the heartbeat that keeps an organization moving forward with purpose and energy.
Introduction to Vision Statements
Understanding the importance of a vision statement is the first step in acknowledging its value. In business planning, a vision statement acts as a foundation for all strategic decisions and plans. It establishes the long-term objectives of the company and serves as a guiding beacon for employees and stakeholders. When effectively crafted, a vision statement can galvanize the workforce, build customer loyalty, and drive innovation.
Brief Introduction to the Concept of a Vision Statement
Now, let's take a brief look at what a vision statement actually is. A vision statement is a succinct expression that encapsulates what a company aspires to become in the future. Unlike goals, which are specific milestones, a vision is more of an idealized representation of where the company aims to be. Think of it as a painting of the future – one that you create today to inspire continuous efforts towards making it a reality.
How a Well-Crafted Vision Statement Can Inspire and Guide a Business
The potency of a vision statement lies in its ability to inspire. When well-crafted, it speaks to the hearts and minds of the employees, stakeholders, and even the customers. It's an intangible force that can foster a sense of belonging, stir innovation, and instill a shared sense of purpose. Moreover, a vision statement guides decision-making processes and helps in evaluating opportunities and challenges in alignment with the company's core aspirations.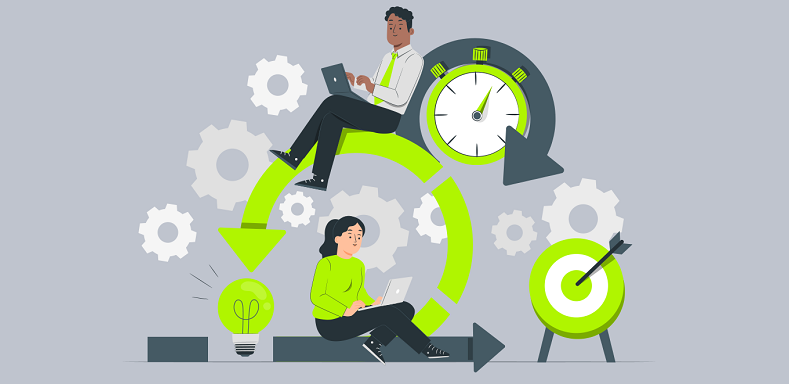 Understanding the Components of a Vision Statement
A vision statement should be more than just a sentence; it should encompass the essence of your business's ambitions.
Definition and Purpose of a Vision Statement
A vision statement is a forward-looking declaration that outlines the long-term goals and aspirations of a business. It serves as an inspiration and a guide for what the company aims to achieve. While it should be ambitious, it also needs to be realistic to ensure that it remains meaningful and achievable. The primary purpose of a vision statement is to provide a clear sense of direction, unify the team under a common purpose, and create a framework for strategic planning [1].
Core Elements of a Vision Statement
Understanding the core elements of a vision statement is critical to crafting one that is both inspiring and functional. Let's explore the four key elements:
Future Orientation
A vision statement should be firmly focused on the future. It needs to paint a picture of what the company aspires to become. This future orientation helps in driving innovation and pushing the boundaries of what the company can achieve.
Clarity and Focus
An effective vision statement is clear and focused. It should be free of jargon and be easily understandable, not only for employees but also for customers and other stakeholders. It should convey the essence of what the company aspires to achieve without being overly complex.
Alignment with Values
A vision statement should be deeply aligned with the core values of the business. This alignment ensures that the vision stays true to what the company stands for. It connects on a deeper level with employees and customers who share these values.
Inspiration and Motivation
Perhaps the most critical element, a vision statement should inspire and motivate. It should excite people about the future and create a sense of purpose that motivates them to contribute to achieving this vision.
Differentiating Between a Vision Statement and a Mission Statement
At this juncture, it's important to distinguish between a vision statement and a mission statement, as they are often confused. While both are critical to a company's identity, they serve distinct purposes.
A vision statement, as we have discussed, outlines the future aspirations of the company. On the other hand, a mission statement focuses on the present and defines the fundamental purpose of the company. It explains why the company exists and what it does to achieve its vision. In essence, if the vision statement is the destination, the mission statement is the journey [2].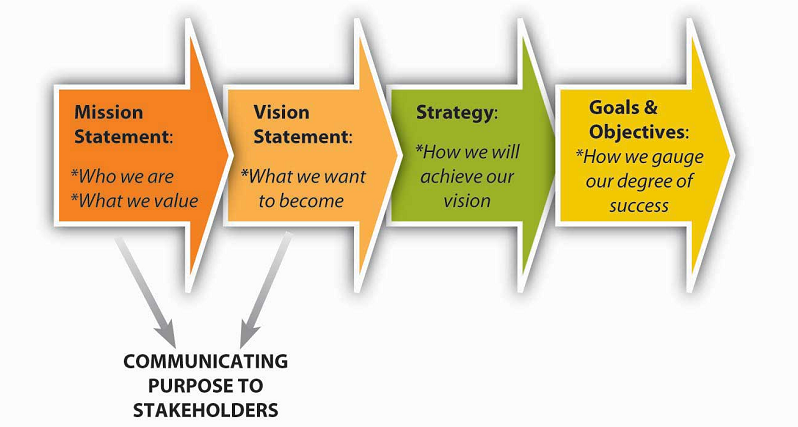 Steps to Crafting an Inspiring Vision Statement
Creating an inspiring vision statement requires reflection, clarity, and a deep understanding of your business's core values and aspirations.
Establishing Your Business Values and Long-Term Objectives
The first step in crafting a vision statement is to establish the core values and long-term objectives of your business. This involves reflecting on what is truly important to the company and what it hopes to achieve in the long term. What values does your business stand for? What impact do you want to have? These questions will help in building the foundation for your vision statement [3].
Brainstorming Your Business' Future Aspirations
Once the core values and long-term objectives are established, it's time to let your imagination soar. Brainstorm what you want your business to look like in the future. This is the stage where you can be ambitious and think big. Involve your team in this process as well, as they might bring different perspectives and ideas that you hadn't considered.
Synthesizing Your Ideas into a Concise Statement
After the brainstorming session, you'll likely have a plethora of ideas. The next step is to synthesize these ideas into a concise, coherent statement. Remember the components we discussed earlier – future orientation, clarity and focus, alignment with values, and inspiration. Ensure your vision statement encompasses these elements.
Ensuring Clarity and Focus Without Being Too Vague or Too Detailed
This step involves refining the statement to ensure that it is clear and focused. Avoid jargon and complex language. At the same time, it's important that the vision statement is not too vague or too detailed. It should offer a clear picture of the future, without limiting the possibilities or being ambiguous.
Aligning the Vision Statement with the Company's Culture and Values
Alignment with the company's culture and values is crucial. Ensure that your vision statement reflects what your company stands for. This alignment is what makes the vision statement authentic and resonates with employees and stakeholders.
Testing the Vision Statement for Inspiration and Motivation
Finally, before finalizing the vision statement, test it out. Share it with a small group of employees, stakeholders, or even friends. Gather feedback on how it makes them feel. Does it inspire and motivate them? Does it provide a sense of direction? Use this feedback to make any final adjustments [4].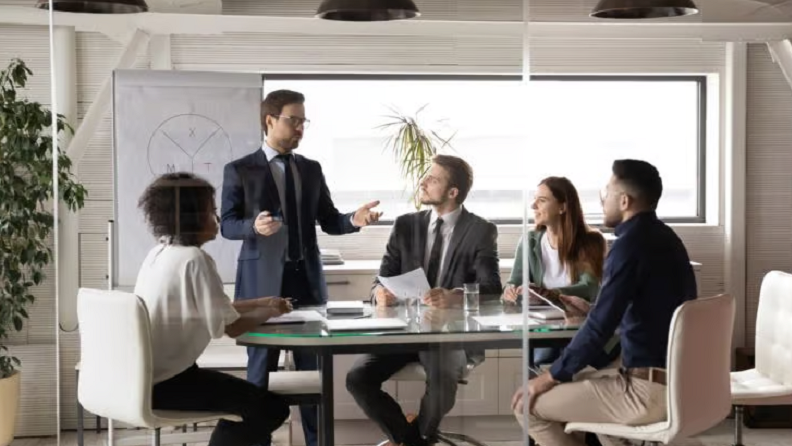 Best Practices for Writing a Vision Statement
A well-crafted vision statement is a fine blend of aspiration and realism, and employing certain best practices can help strike this balance.
Be Concise and Clear
Clarity and conciseness are virtues of an effective vision statement. A clear message can resonate well with your team and stakeholders. Avoid long, complex sentences. Try to convey the essence of your business's future in as few words as possible. A concise and clear vision statement is easy to remember and can be more effectively ingrained into your company's culture.
Use Engaging and Inspirational Language
The language you use in your vision statement should inspire and engage the reader. Use powerful and positive words that evoke emotion. However, be cautious not to go overboard with flowery language that can take away from the clarity of the message.
Be Future-Focused But Realistic
A vision statement should be ambitious, but it's also important to keep it realistic. The future you envision should be a stretch for the organization but still within the realms of possibility. If the vision is perceived as unattainable, it may demotivate rather than inspire [5].
Be Authentic and True to Your Business
Your vision statement should reflect the authenticity of your business. It should be rooted in the values and culture of your company. Avoid adopting a vision simply because it sounds good or because another successful company has a similar one. Your vision should be uniquely yours.
Involve Stakeholders in the Creation Process
Involving employees, partners, and other stakeholders in the creation process can lead to a richer and more aligned vision statement. This participatory approach ensures buy-in from those who will be instrumental in realizing the vision.
References

[1] How to write a vision statement: Steps and examples
[2] What Is a Vision Statement?
[3] 5 Top Tips for Crafting Mission and Vision Statements with Meaning
[4] How To Write Vision and Mission Statements
[5] Crafting Mission and Vision Statements