Long-Term Success: How to Set Strategic Business Objectives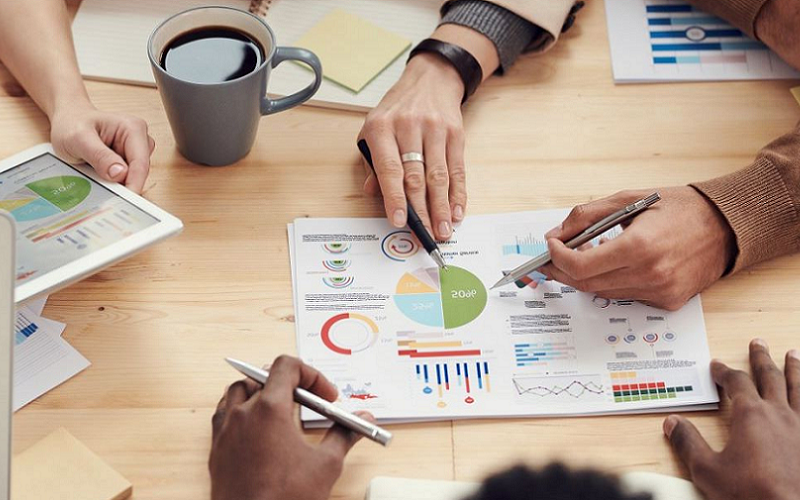 Effective business planning isn't just about the here and now; it's about setting your sights on the horizon and charting a course towards long-term success. It's about knowing where you want your business to go and understanding the steps you need to take to get there. This process is driven by your business objectives – clear, concise goals that provide direction and a sense of purpose.
Understanding Business Objectives
Before we get into the specifics of setting strategic business objectives, it's crucial to understand what business objectives are in a broader sense. These elements play a fundamental role in shaping the direction of your business and serve as a roadmap for your company's journey.
Definition of Business Objectives
Business objectives are specific, measurable goals that a company sets to ensure it meets its broader business goals and its vision. These objectives are precise targets that provide a sense of direction and purpose, guiding the decision-making process at all levels of the company. They are a crucial tool for defining the company's course of action and serve as a standard for assessing performance and progress.
Importance of Business Objectives
Now that we have defined business objectives, let's delve into why they are so important. First and foremost, business objectives provide a clear sense of direction. They tell you where you're going and help you map out the path to get there.
Moreover, they serve as a motivating force. When everyone in a company is working towards the same goals, it creates a sense of cohesion and purpose that can boost morale and productivity.
Objectives are also critical for decision making. They serve as a guide for determining which actions will best support the achievement of your company's goals. In this sense, they help you prioritize your resources and efforts effectively [1].
Relationship between Business Objectives and Long-term Success
The relationship between well-defined business objectives and long-term success cannot be overstated. Clear, strategic objectives guide your business towards your desired outcomes, align your team, and help you measure progress along the way.
They ensure your company maintains focus on what truly matters, reducing the risk of deviating from your strategic path. By setting and diligently following through on these objectives, businesses can navigate market shifts, adapt to changing customer needs, and ultimately, achieve sustained growth and success.

Types of Business Objectives
Depending on your industry, size, and long-term vision, some types of business objectives might be more relevant to your business than others. However, it's essential to have a balanced mix of these types to ensure comprehensive growth and success.
Financial Objectives
Financial objectives are directly related to your company's financial performance. These are typically quantitative, allowing you to easily measure progress and success.
Examples of financial objectives might include increasing revenue by a certain percentage, improving profit margins, achieving a particular return on investment, reducing costs, or increasing the value of the company. These objectives help ensure your business is financially sustainable and profitable, enabling further investment and growth.
Strategic Objectives
Strategic objectives align with your company's mission, vision, and long-term goals. These objectives are the primary focus of our post today. They are generally concerned with expanding the company's market presence, improving competitive positioning, fostering innovation, or improving customer satisfaction and loyalty [2].
For instance, a strategic objective could be to enter a new market, launch a new product line, or build a more robust customer service system. These objectives pave the way for long-term success and sustainability of your business.
Operational Objectives
Operational objectives are concerned with the internal operations and processes of the company. They aim to improve efficiency, productivity, and the quality of products or services.
Examples of operational objectives might include reducing production time, minimizing waste, implementing a new technology to improve efficiency, or improving the supply chain process. These objectives are crucial to ensure your business operates smoothly and efficiently, delivering high-quality products or services to your customers.
Learning and Growth Objectives
Lastly, learning and growth objectives focus on your company's internal capabilities and resources, particularly your employees. They often revolve around skills development, knowledge enhancement, and fostering a positive and inclusive company culture.
For instance, a learning and growth objective might be to provide regular training programs for your staff, improve employee engagement scores, or increase diversity in your workforce. These objectives help ensure your business has the skilled, motivated, and diverse workforce necessary to drive success and innovation.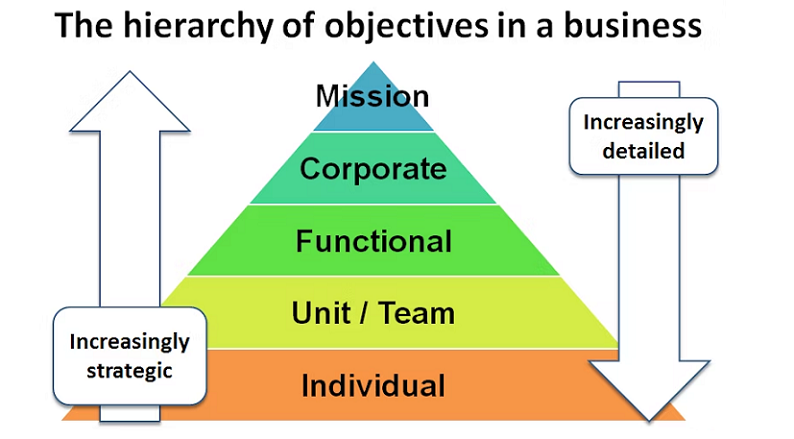 The Process of Setting Strategic Business Objectives
Setting strategic business objectives is a critical step on your path to long-term success. But how do you actually go about setting these objectives? While there may be slight variations in the process depending on your specific business and circumstances, the general steps remain the same.
Understanding the Current Situation
Before you start setting objectives, it's important to understand your business's current situation. This involves an analysis of your internal environment (strengths and weaknesses) and external environment (opportunities and threats) [3].
SWOT Analysis
SWOT Analysis is a strategic planning tool used to identify your business's Strengths, Weaknesses, Opportunities, and Threats. Strengths and weaknesses are internal factors that are within your control. Opportunities and threats, on the other hand, are external factors that you may not be able to control, but can strategize around.
This analysis helps you understand your business's position within the market and highlights areas where you can leverage your strengths and opportunities or mitigate your weaknesses and threats.
PESTEL Analysis
PESTEL Analysis is another strategic tool used to understand the macro-environmental factors that affect your business. It stands for Political, Economic, Sociocultural, Technological, Environmental, and Legal factors. This analysis helps you understand the broader forces at play, enabling you to strategically align your business objectives with these trends.
Setting Vision and Mission
After understanding your current situation, it's time to define your business's vision and mission. These provide the overall direction for your business and will guide your objective-setting process.
Your vision statement outlines what your company wants to achieve in the long-term. It's your dream for the business. On the other hand, your mission statement describes what your company does, who it serves, and how it does it. It's your business's reason for existing.
Your vision and mission statements should inspire and guide your strategic business objectives. They serve as the north star that all your objectives should strive towards.
Creating Strategic Business Objectives
Now that you understand where your business is and where you want it to go, it's time to start creating your strategic business objectives.
Identifying Key Areas of Focus
Your analysis of the current situation and your vision and mission statements should help you identify key areas where your business needs to focus. These might include areas where you need to improve, opportunities you want to take advantage of, or potential threats you need to mitigate.
Formulating Objectives
Once you have identified your key areas of focus, you can start formulating your strategic business objectives. Remember, these objectives should be SMART – Specific, Measurable, Achievable, Relevant, and Time-bound. This ensures that they are clear, actionable, and tied to a specific timeframe [4].
Key Elements in Objectives Setting
There are two crucial elements to remember when setting your objectives.
SMART Criteria
As mentioned earlier, using the SMART criteria ensures your objectives are actionable and effective. They should be clear (Specific), allow for progress tracking (Measurable), be realistic (Achievable), align with your business's vision and mission (Relevant), and have a set deadline (Time-bound).
Importance of Stakeholder Involvement
Including key stakeholders in the objectives setting process is essential. Stakeholders can provide valuable insights and perspectives that can enhance the quality and relevance of your objectives. Involving them also increases their buy-in, which can be crucial for successful implementation.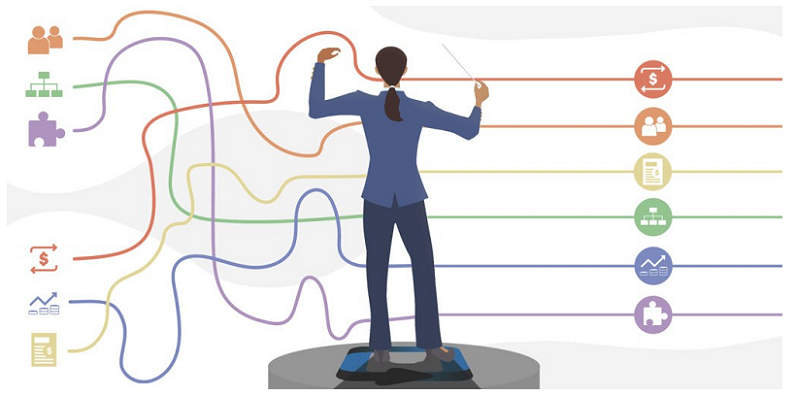 Examples of Strategic Business Objectives
With the understanding of what strategic business objectives are and the process of setting them, let's now explore some concrete examples. These will help illustrate the types of objectives your business might consider setting. Keep in mind, however, that the most effective objectives are those tailored to your specific business and circumstances [5].
Market Penetration
Market penetration involves gaining a larger share of your current market, either by selling more products or services to existing customers or finding new customers within that market. An objective related to market penetration could be: "Increase our market share in the domestic fitness equipment market from 10% to 15% by the end of 2024."
Product Development
Product development involves creating new products or improving existing ones to meet customer needs and expand your business. An objective related to product development could be: "Launch a new eco-friendly home cleaning product line by Q2 of 2024."
Market Development
Market development involves expanding your business into new markets. This could be geographically (e.g., entering a new country) or demographically (e.g., targeting a new age group). An objective related to market development could be: "Expand our home furniture retail business into the European market by the end of 2025."
Diversification
Diversification involves branching out into new products and markets simultaneously. This strategy is more risky, but can lead to significant growth. An objective related to diversification could be: "Launch a new line of organic food products and secure distribution in health food stores across the country by 2026."
These are just a few examples of what strategic business objectives might look like. The objectives you set for your own business should reflect your unique vision, mission, strengths, and opportunities. They should also be ambitious but achievable, driving your business towards growth and long-term success.
Implementing Business Objectives
After setting your strategic business objectives, the next critical phase is implementation. Your objectives should inform your business operations and guide your decision-making processes. However, implementing these objectives can often be challenging.
Break Down Objectives into Actionable Steps
Strategic objectives can sometimes seem intimidating due to their long-term and broad nature. One effective way to deal with this is by breaking down each objective into smaller, actionable steps or tasks. This not only makes the objectives more manageable but also allows for clear tracking of progress.
Develop Action Plans
For each objective, develop an action plan that outlines the specific tasks that need to be completed. Each task should have a person or team assigned to it, ensuring accountability.
Set Short-Term Goals
Setting short-term goals that contribute towards your long-term objectives can also be helpful. These goals are like milestones along the journey to achieving your strategic objectives, providing a sense of progress and motivation.
Communicate the Objectives
Effective communication is key when it comes to implementing business objectives. Everyone in your organization should understand what the objectives are, why they are important, and what their role is in achieving them.
Regularly Discuss Objectives
Regularly discuss the objectives at team meetings to keep them at the forefront of everyone's mind. This also allows for the sharing of ideas and problem-solving strategies.
Use Visual Aids
Visual aids, like dashboards or posters, can be a useful tool for keeping the objectives visible and reminding everyone of the company's direction.
Monitor and Adjust
Implementing strategic business objectives is not a one-time event, but an ongoing process. It's crucial to regularly monitor your progress towards your objectives and make adjustments as necessary.
Regular Progress Checks
Regular progress checks can help you understand whether your action plans are effective and whether you're on track to achieving your objectives. This also allows for early detection of any issues or obstacles, enabling timely intervention.
Adjust Plans as Needed
Don't be afraid to adjust your plans if things aren't working out as expected. The business environment is constantly changing, and your plans might need to evolve accordingly.
References

[1] What Are Strategic Objectives? (With Steps and Examples)
[2] How to Set Strategic Planning Goals
[3] 3 Steps to Identify the Right Strategic Goals for Your Company
[4] What Is the Purpose of Strategic Objectives?
[5] The Ultimate Guide to Setting Business Goals