Sustainable Business: The Rising Trend of Going Green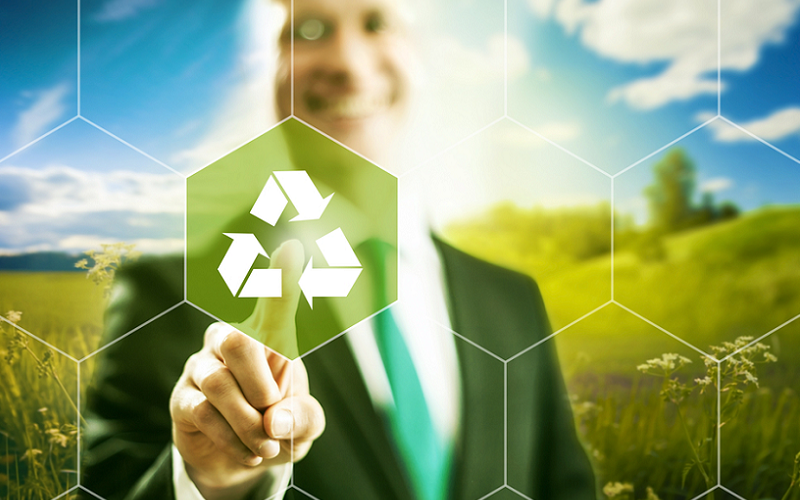 In today's fast-paced, innovation-driven world, the role of businesses extends far beyond just profit-making. One of the most significant shifts we've seen in the business landscape is the rise of sustainable practices, or "going green," as a cornerstone of modern business strategy. This shift reflects not only an awareness of environmental challenges but also a recognition that sustainable business is good business. Here we explore the concept of a sustainable business, delve into the rising trend of going green, and examine the importance of sustainability in contemporary business.
The Importance of Sustainability in Modern Business
In recent years, sustainability has become a key factor in determining the success and longevity of businesses. To fully understand why this is, we must first delve into the importance of sustainability in the modern business landscape.
The Role of Sustainability in Business Success
Sustainability is no longer a bonus or a marketing strategy; it's an integral part of doing business in the 21st century. It involves the incorporation of environmental, economic, and social considerations into decision-making processes, from strategy to implementation. Adopting sustainable business practices allows companies to be more efficient, resilient, and adaptable in the face of changing economic landscapes and market demands.
The benefits of sustainability extend far beyond the environment. Companies that prioritize sustainability often experience increased customer loyalty, access to new markets, improved risk management, and an enhanced ability to attract and retain talent. Moreover, sustainability often leads to innovation, as companies must develop new processes, products, and services that reduce environmental impact while maintaining or increasing value for customers.
Consumer Demand for Sustainable Products and Services
The market demand for sustainable goods and services has grown substantially. Increasingly, consumers are voting with their dollars, favoring companies that prioritize environmental stewardship and social responsibility over those that do not. In a 2020 survey by IBM, nearly 6 in 10 consumers surveyed were willing to change their shopping habits to reduce environmental impact. Moreover, the same study revealed that consumers were willing to pay a premium for brands that are sustainable and environmentally responsible.
This changing consumer mindset has created a new market for green products and services, making sustainability a competitive advantage for many businesses. Brands that fail to respond to this shift risk being left behind.
The Impact of Sustainable Practices on Business Reputation
In today's interconnected world, businesses are under intense scrutiny from a variety of stakeholders, including consumers, employees, investors, and regulators. Transparency is key, and companies that operate in ways that are environmentally harmful or socially irresponsible risk damaging their reputation and brand value.
Sustainable practices, on the other hand, can significantly boost a company's reputation. They demonstrate to stakeholders that a company is committed to making a positive impact, which can strengthen brand loyalty, foster trust, and ultimately drive long-term business success. This reputational boost is particularly crucial in today's digital age, where news about a company's practices can spread rapidly and widely [1].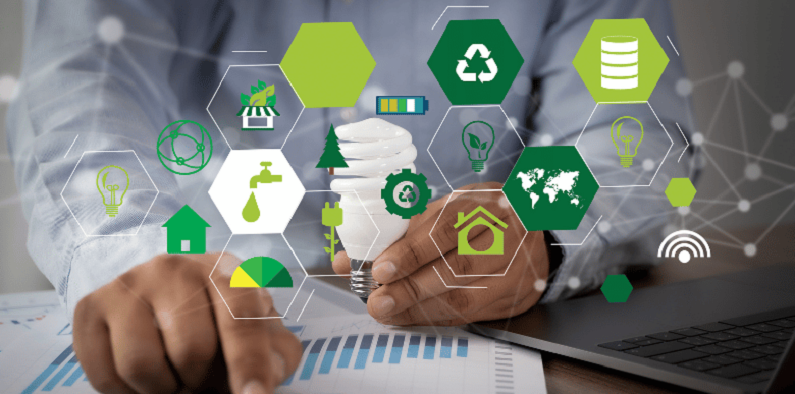 Exploring the Trend of Going Green
Now that we've established the importance of sustainability in business, let's take a closer look at the trend of 'going green'. This shift towards environmentally friendly practices has gained substantial momentum over the past decade, transforming industries and reshaping the way businesses operate.
Overview of the Shift Towards Green Business Practices
The move towards sustainable or 'green' business practices involves businesses making a conscious decision to implement operations that are beneficial—or at least not harmful—to the environment. This could range from reducing energy consumption to recycling waste, sourcing materials responsibly, or developing green products.
This shift is being driven by several factors. As we've already discussed, consumers are increasingly seeking out sustainable products and services. On top of that, governments worldwide are introducing stringent regulations to combat climate change, pushing businesses to rethink their environmental impact.
Case Studies of Successful Green Businesses
Many businesses have embraced the green trend and reaped significant rewards. Let's consider a couple of examples:
Patagonia
This outdoor clothing brand has long been committed to environmental activism and sustainability. They have integrated sustainability into every aspect of their business, from using recycled materials in their products to investing in renewable energy for their stores and offices. Patagonia has shown that it's possible to be profitable while also being environmentally conscious.
IKEA
The global furniture retailer has pledged to become 'climate positive' by 2030, meaning it will reduce more greenhouse gas emissions than it emits. They're achieving this through a variety of measures, including sourcing all wood from more sustainable sources and investing in renewable energy projects.
These companies highlight that going green is not just about risk management or compliance—it's also about seizing new opportunities and gaining a competitive edge.
The Role of Innovation in Green Business Transformation
Innovation plays a crucial role in the green transition. Businesses are coming up with creative solutions to reduce their environmental footprint, from developing new products and services to overhauling their operations.
Technological advancements are leading the way, with developments in areas like renewable energy, electric vehicles, and circular economy models. But innovation isn't just about technology—it's also about new business models, new ways of thinking, and new collaborations. For instance, many businesses are embracing the concept of 'shared value', where they create economic value in a way that also creates value for society by addressing its challenges [2].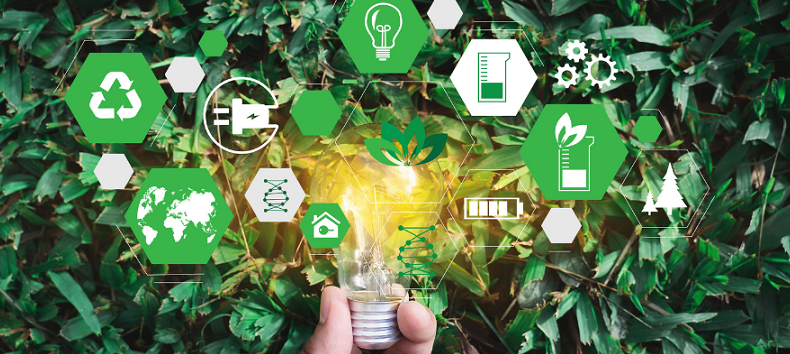 Benefits of a Green Business Model
Transitioning to a green business model not only contributes positively to the environment but also offers a multitude of benefits to the businesses themselves.
Financial Advantages of Sustainable Business Practices
One of the most significant benefits that green businesses experience is financial gain. Contrary to the common misconception that going green is expensive, sustainable business practices can often lead to significant cost savings. Energy efficiency measures, for instance, can significantly reduce utility bills. Similarly, waste reduction strategies can lower disposal costs and even create new revenue streams by selling recyclable materials or by-products.
Moreover, green businesses often attract socially responsible investors who are willing to invest in companies that prioritize sustainability. This can provide green businesses with the capital needed to expand and innovate.
Environmental Benefits of Going Green
The environmental benefits of adopting a green business model are self-evident. By minimizing waste, reducing energy consumption, and curbing greenhouse gas emissions, businesses can significantly lower their environmental footprint. This not only helps to protect our planet but also conserves resources that businesses depend on.
Moreover, green businesses often go beyond reducing their own environmental impact—they can also influence their suppliers, partners, and customers to do the same, creating a ripple effect that amplifies their environmental benefits [3].
Employee and Customer Satisfaction
Going green can also lead to increased employee and customer satisfaction. Employees today, particularly younger generations, want to work for companies that align with their values. A commitment to sustainability can help attract and retain talented employees who are motivated and engaged, which can boost productivity and reduce turnover costs.
From the customer perspective, businesses that prioritize sustainability tend to have stronger relationships with their customers. By demonstrating that they care about more than just profits, green businesses can earn customer trust and loyalty, leading to repeat business and positive word-of-mouth.
Innovations Driving the Green Business Movement
As we delve deeper into the green business landscape, it's impossible to overlook the vital role that innovation plays in driving this movement. Emerging technologies and novel ideas are enabling businesses to operate more sustainably and efficiently, fostering a new era of eco-conscious business.
Emerging Technologies and Green Innovation
Numerous technologies are driving the green business movement. Renewable energy technologies like solar panels and wind turbines are helping businesses reduce their reliance on fossil fuels. Energy-efficient appliances and lighting systems are also becoming increasingly commonplace, enabling businesses to cut down their energy consumption.
In the manufacturing sector, technologies such as 3D printing and advanced robotics are minimizing waste by enabling more precise production. Similarly, in the logistics industry, electric vehicles and optimized routing software are reducing fuel consumption and emissions.
Additionally, digital technologies are playing a pivotal role in green innovation. From IoT devices that monitor energy usage to AI systems that optimize resource allocation, these technologies are helping businesses operate more sustainably.
Innovative Green Products and Services
Alongside the rise in green technologies, we're also witnessing a surge in the development of green products and services. Many businesses are revolutionizing their product lines to reduce environmental impact, creating items from recycled or biodegradable materials, for instance.
Moreover, services that promote a circular economy are on the rise. These include sharing services, which reduce the need for ownership (and thus production) of goods, and product-as-a-service models, where companies retain ownership of a product and customers pay for the service it provides, encouraging better maintenance and end-of-life management [4].
Impact of Digital Transformation on Sustainable Business
The digital transformation that many businesses are undergoing is also propelling the green business movement. With cloud computing and digital communication tools, businesses can reduce their need for physical infrastructure and travel, cutting down their carbon footprint.
Moreover, digital tools are enabling businesses to monitor and manage their environmental impact more effectively. For instance, software can track a company's carbon emissions or water usage in real time, providing the data needed to develop more sustainable practices.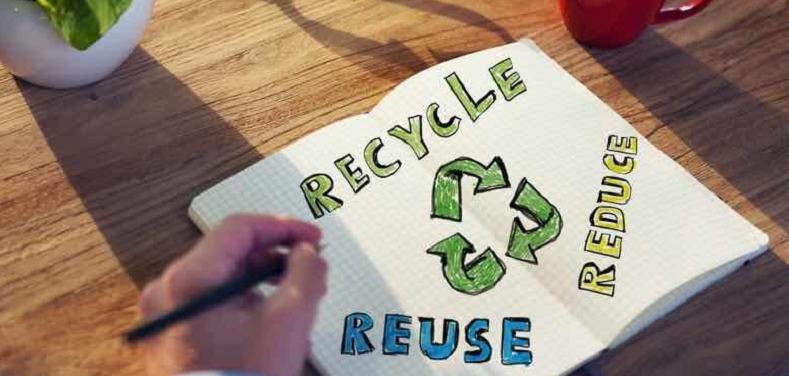 Making the Transition to a Green Business Model
Making the transition to a green business model might seem daunting, but it's a process that can be managed strategically and step by step.
Initial Steps for Going Green
The first step towards adopting a green business model is to conduct an environmental audit. This involves assessing your current operations to identify areas where you can reduce your environmental impact. You might look at your energy usage, waste production, water consumption, or your supply chain practices, for instance.
Next, it's important to set clear, measurable goals for your green transition. These might involve reducing your energy consumption by a certain percentage, achieving zero waste, or sourcing all your materials sustainably. Having specific goals can guide your efforts and help you track your progress.
Finally, you'll need to develop an action plan to achieve your goals. This could involve implementing energy-efficient technologies, adopting recycling programs, sourcing from sustainable suppliers, or even developing green products or services.
How to Embed Sustainability in Your Business Strategy
To ensure the success of your green transition, it's crucial to embed sustainability into your business strategy. This means viewing sustainability not as a separate initiative, but as a core part of your business.
One approach is to incorporate sustainability into your mission or vision statement, reflecting your commitment to the environment. You could also integrate sustainability into your operational processes, such as your procurement or manufacturing practices.
It's also important to engage your stakeholders in your green transition. This includes your employees, who can be a driving force for sustainability, as well as your customers, investors, and suppliers, who can support and even enhance your efforts.
Overcoming Challenges in the Green Transition
Despite the benefits of going green, the transition can come with challenges. These might include the upfront costs of implementing green technologies or resistance from employees or stakeholders.
However, these challenges can often be overcome with the right strategies. For instance, the costs of green technologies can be offset by the long-term savings they bring. And resistance from stakeholders can be addressed through education and engagement, showing them the benefits of sustainability for both the business and the environment [5].
Future of Green Businesses
As businesses around the world continue to adopt more sustainable practices, the future of green businesses looks increasingly promising. Let's explore what we might expect in terms of continued innovation, evolving consumer expectations, and future regulatory landscapes.
Ongoing Innovations
The pace of innovation in green business practices and technologies is likely to accelerate in the coming years. Renewable energy sources are becoming increasingly efficient and affordable. New materials and production techniques are emerging that reduce waste and conserve resources. And digital technologies like artificial intelligence and the Internet of Things are providing new tools for businesses to manage their environmental impact.
These ongoing innovations will continue to open up new opportunities for businesses to reduce their environmental footprint while also improving their efficiency and competitiveness.
Evolving Consumer Expectations
Consumer demand for sustainable products and services is expected to continue growing. As awareness of environmental issues increases, consumers are becoming more discerning, seeking out businesses that align with their values and have a positive impact on the world.
This trend is likely to reshape the market, rewarding businesses that prioritize sustainability and punishing those that don't. Businesses that can anticipate and respond to these changing consumer expectations will be well-positioned to succeed in the green economy.
Future Regulatory Landscapes
As the threat of climate change becomes more urgent, governments around the world are likely to introduce more stringent regulations around environmental sustainability. This could include stricter standards for emissions, waste, and energy use, as well as incentives for sustainable practices.
While these regulations will pose challenges for businesses, they also present opportunities. Businesses that are ahead of the curve in adopting sustainable practices will be better positioned to comply with future regulations and could gain a competitive advantage.
References

[1] The Ongoing Evolution of Sustainable Business
[2] 13 sustainability trends driving business in 2023
[3] Sustainable Business Went Mainstream
[4] Corporate Sustainability Trends
[5] How forward-thinking firms are rewriting the capitalist rulebook