Business Competitive Analysis: A Step-by-Step Guide to Knowing Your Industry Rivals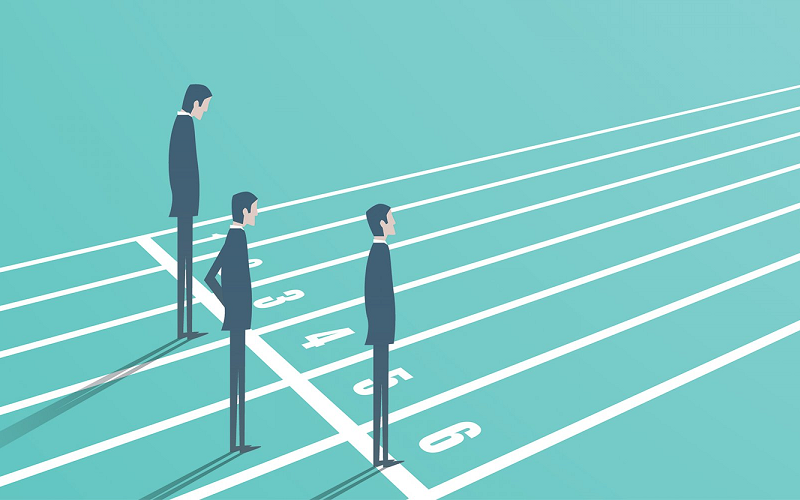 In an ever-evolving business landscape, staying ahead of the curve is not just an option, but a necessity. Whether you're just setting your business in motion or looking to scale new heights, understanding your competition is paramount. Here we arm you with the knowledge and tools needed to scrutinize the competition and make informed business decisions. We describe the importance of competitive analysis, how to identify who your competitors are, and the ways in which you can collect and analyze data about them.
The Basics of Business Competitive Analysis
Competitive analysis is the process of identifying and evaluating your competitors' strategies to ascertain their strengths and weaknesses relative to your own product or service. The overarching goal is to gain a competitive edge in the market. This can be achieved through various means, such as:
Uncovering Market Opportunities: By understanding what competitors are offering, you can identify unmet needs and gaps in the market that your business can fill.
Informing Product Development: Analyzing competitors' products can provide insights that help in enhancing your product features and capabilities.
Refining Marketing Strategies: Understanding how competitors are positioning themselves allows you to create more effective marketing campaigns and messaging.
Mitigating Risks: Being aware of competitors' actions helps in anticipating challenges and preparing your business to respond effectively.
Benchmarking: It enables you to set performance standards based on industry norms, which can be used for goal setting and performance improvement.
The Difference Between Competitive Analysis and Market Research
While competitive analysis and market research are both crucial for informed decision-making, they are not synonymous. Here's a breakdown.
Competitive Analysis
As mentioned earlier, competitive analysis is focused on understanding competitors' strategies, strengths, and weaknesses. It's a targeted approach aimed at gaining a competitive advantage.
Market Research
This is a broader concept that involves gathering information about the industry, market trends, customer preferences, and other factors that might impact business. Market research doesn't focus solely on competitors but provides a more comprehensive overview of the market.
In essence, competitive analysis is a component of market research. While market research gives you a bird's eye view of the market, competitive analysis allows you to zoom in on specific rivals [1].
Tools and Resources for Competitive Analysis
Now that you have an understanding of what competitive analysis entails and how it differs from market research, let's explore some tools and resources that can help streamline this process:
SEMRush: This tool is mainly known for its SEO capabilities but is also excellent for competitive analysis. It allows you to analyze competitors' websites, traffic sources, and keyword strategies.
Google Alerts: Setting up Google Alerts for competitors' names and products can keep you updated on their latest moves and market presence.
Social Mention: This tool monitors over 100 social media platforms to track and measure what people are saying about your competitors.
SpyFu: Use this to uncover competitors' most profitable keywords, ads, and other online marketing strategies.
SWOT Analysis Templates: These can help you systematically evaluate competitors' strengths, weaknesses, opportunities, and threats.
Industry Reports and Databases: Sources like Statista, IBISWorld, and MarketResearch.com provide valuable data on market trends and industry competitors.
Government Publications: Government websites often publish industry data and statistics which can be valuable for analyzing competitors in specific sectors.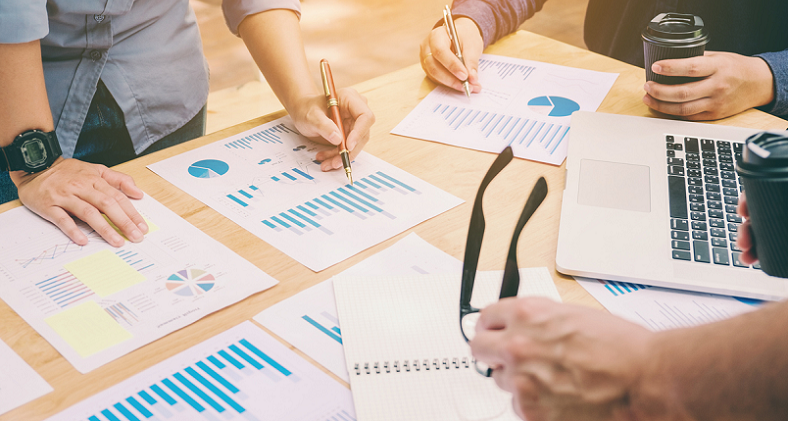 Identifying Your Business Competitors
As you venture into the realm of competitive analysis, the first critical step is identifying who your competitors are. This section will guide you through differentiating between primary and secondary competitors, creating a competitor list, and keeping an eye on new market entrants.
Primary vs. Secondary Competitors
To conduct an effective competitive analysis, it's essential to understand the distinction between primary and secondary competitors. This categorization helps in focusing your analysis and understanding the various degrees of competition.
Primary Competitors
These are the businesses that offer a product or service similar to yours and target the same customer base. They are your main competitors, as customers often make choices between your offerings and theirs.
Secondary Competitors
These businesses might not offer the same product or service but serve as an alternative to your offering. For example, a pizzeria's primary competitors are other pizzerias, whereas a sandwich shop could be considered a secondary competitor.
It's important to analyze both types of competitors as they can impact your business in different ways.
Creating a Competitor List
Now that you know the types of competitors, let's focus on creating a list of companies to analyze [2]. Here's a step-by-step approach:
Start with a Market Search: Use search engines, industry reports, and market directories to look for businesses in your industry.
Check Social Media: Social media platforms like Facebook, LinkedIn, and Instagram can be great sources to find competitors.
Ask Your Customers: Sometimes your customers can provide the best insights. Ask them about other products or services they considered before choosing yours.
Attend Industry Events: Trade shows, conferences, and other industry events can be goldmines for identifying competitors.
Categorize the Competitors: As you compile your list, categorize each competitor as primary or secondary based on the criteria discussed earlier.
Keep the List Manageable: It's important to keep the list manageable. Focus on the most relevant competitors rather than creating an exhaustive list.
Monitoring New Entrants in the Market
Keeping an eye on new competitors entering the market is as important as analyzing existing ones. New entrants can disrupt the market dynamics and affect your business.
Use Alert Tools: Set up tools like Google Alerts or Mention to notify you when new competitors emerge.
Follow Industry News: Regularly reading industry news and subscribing to relevant publications can keep you informed about new entrants.
Engage in Networking: Build relationships with other professionals in your industry. Often, word-of-mouth is the fastest way to learn about new competitors.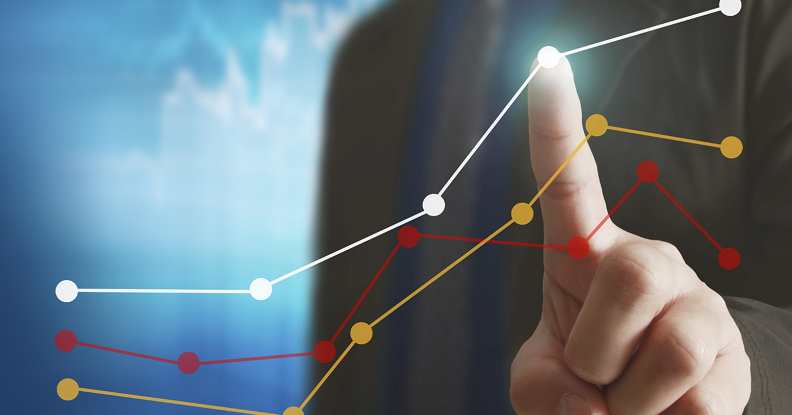 Gathering Information About Competitors
After identifying your competitors, the next step is to collect data and information about them. This stage is crucial as it provides the insights needed for a comprehensive competitive analysis.
Sources of Information
There are several avenues you can explore to gather information about your competitors. Being resourceful and using a combination of these sources will result in a more well-rounded understanding of the competition.
Company Websites and Social Media
Begin by visiting your competitors' websites. Pay attention to product details, pricing, branding, and their value proposition. Also, don't forget to analyze their blogs and any available customer testimonials. Social media pages are equally important; check their engagement rates, content strategies, and customer feedback.
Customer Reviews
Customer reviews on platforms like Yelp, Google, and Amazon provide invaluable insights into what customers like or dislike about your competitors' products or services.
Press Releases and News Articles
Monitor press releases and news articles for any announcements, partnerships, or business strategies. This will give you an understanding of their current actions and future plans.
Industry Reports
Make use of industry reports and market research studies. These documents often contain detailed information about market leaders, emerging players, and various business strategies employed within the industry.
Understanding Competitor Product Offerings
Now that you are aware of where to look, it's important to focus on what to look for, especially concerning product offerings.
Range of Products or Services: Understand the variety and range of products or services your competitors offer.
Features and Benefits: Evaluate the features of their products or services and how they market the benefits of these features.
Innovation and USPs: Look out for any innovative aspects or unique selling propositions that set their product apart.
Pricing and Discounts: Take note of their pricing strategies, including any discounts or loyalty programs they might have.
Understanding your competitors' standing in the market is vital. It gives you insights into who the market leaders are and where you stand relative to them [3].
Market Share: Estimate what percentage of the market share your competitors hold. Market research reports can be particularly useful for this.
Brand Perception: Try to gauge how customers perceive your competitors' brands. Are they viewed as trustworthy, innovative, budget-friendly, or premium?
Awards and Recognition: Take note of any awards or recognition that competitors have received. This could indicate areas where they excel.
Financial Health: If your competitors are public companies, analyze their financial reports to understand their financial health and growth trends.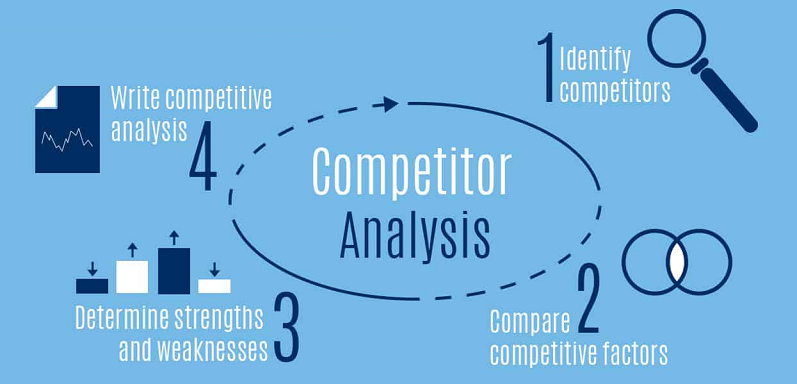 Analyzing Competitors' Strengths and Weaknesses
Having gathered a wealth of information on your competitors, it's time to analyze their strengths and weaknesses. This step is critical in understanding where you can outperform your competition and areas where you might be vulnerable.
SWOT Analysis
One of the most effective methods to analyze competitors' strengths and weaknesses is through SWOT analysis, which stands for Strengths, Weaknesses, Opportunities, and Threats.
Strengths
Identify areas where your competitors excel. These could include a strong brand, a loyal customer base, unique features, patents, or an extensive distribution network.
Weaknesses
Spot the areas where your competitors are lacking. This could include higher pricing, outdated technology, poor customer service, or a limited product range.
Opportunities
Consider external factors that your competitors could exploit to their advantage. This may include emerging markets, new technologies, or shifts in consumer behavior.
Threats
Identify external factors that could pose challenges to your competitors, such as new market entrants, regulatory changes, or negative publicity.
Unique Selling Propositions (USPs)
Your competitors might have certain USPs that make them stand out in the market. Analyze what makes their product or service unique. This could range from an innovative feature, exclusive partnerships, or exceptional customer service. Understanding competitors' USPs will help you in developing or refining your own [4].
Pricing Strategies
Pricing plays a significant role in consumer decision-making. Analyze how your competitors price their products or services.
Do they engage in premium pricing, value-based pricing, or cost-plus pricing?
How often do they offer discounts or promotions?
Do they have loyalty programs or incentives for repeat purchases?
Understanding these aspects will provide insights into how pricing could be used as a competitive advantage.
Marketing and Advertising Strategies
Examine your competitors' marketing and advertising efforts.
What channels do they use?
How do they position their product or service?
What messaging and imagery do they use in their campaigns?
Understanding their marketing strategies can provide insights into what resonates with your target audience and where there might be opportunities to differentiate your brand.
Distribution Channels
Lastly, it's crucial to analyze how your competitors get their products or services to the market.
Are they selling directly to consumers through an online platform?
Do they use retail partners, wholesalers, or third-party marketplaces?
How do they manage logistics and delivery?
Understanding competitors' distribution channels can offer insights into efficiencies, potential partnerships, or alternative methods of reaching your customers.
Understanding Competitors' Customer Base
As important as it is to understand your competitors' business strategies and offerings, it is equally essential to understand their customer base. Knowing who your competitors are selling to can help you identify potential target markets, refine your marketing strategies, and develop products or services that meet specific customer needs.
Profiling Competitor Customer Segments
To get a clearer picture of who your competitors are selling to, it's useful to create profiles of their customer segments. Here are steps you can follow:
Demographics
Start by identifying the basic demographics of your competitors' customers. This includes age, gender, location, and income levels.
Psychographics
Go beyond demographics and understand the psychographics, which include interests, attitudes, values, and lifestyles of your competitors' customers.
Needs and Pain Points
Identify what needs or problems the customers might have, and how your competitors' products or services address those needs or pain points.
Purchasing Behavior
Understand how the customers make purchasing decisions. Are they impulse buyers, or do they take time researching before making a purchase?
Analyzing Customer Preferences
Once you have profiled your competitors' customer segments, the next step is to analyze their preferences. This involves understanding what they value most in a product or service and what drives their loyalty to a particular brand. Customer reviews, surveys, and social media comments are valuable resources for this analysis [5].
Product Features and Quality
Determine which product features or aspects of service quality are most valued by the customers.
Price Sensitivity
Understand to what extent price affects their purchasing decisions. Are they willing to pay a premium for certain features or benefits?
Brand Image
Assess how important brand image is to the customers. Do they prefer brands that align with their values or lifestyle?
Understanding Customer Loyalty
Finally, understanding why customers remain loyal to your competitors can provide insights into how you can attract them to your business.
Repeat Purchases and Referrals
Analyze if customers tend to make repeat purchases and whether they refer the products or services to others. This could indicate high satisfaction and loyalty.
Loyalty Programs
Investigate if your competitors have loyalty programs in place and how effective they are in retaining customers.
Customer Engagement
Observe how your competitors engage with their customers through social media, newsletters, or community events. Engaged customers are often more loyal.
Customer Service
Take note of how your competitors handle customer service and support, as this can be a significant factor in customer retention.
Monitoring Competitor Actions and Market Trends
Competitive analysis is not a one-time process. The business landscape is dynamic, and competitors' strategies and market trends change over time. Continual monitoring of competitor actions and market trends is essential to stay ahead and make informed decisions.
Tracking Competitors' Marketing Efforts
Competitors' marketing strategies can change, and it's vital to be aware of these changes to understand how they might affect your business.
Social Media Monitoring
Regularly monitor your competitors' social media pages. Pay attention to the content they are posting, how they are engaging with their audience, and any new campaigns they are running.
Email Newsletters
Subscribe to your competitors' email newsletters if they have them. This will give you insights into how they communicate with their customers and what promotions or new products they are highlighting.
Advertising Tracking
Keep an eye on your competitors' advertising efforts through platforms like Google Ads or Facebook Ads Library. This can give you an idea of their advertising budget, messaging, and target audience.
Monitoring Changes in Product Offerings
Staying informed about any changes in your competitors' product or service offerings is crucial.
Product Launches and Updates
Monitor for new product launches or updates to existing products. Understanding what new features or services are being offered can help you anticipate market reactions and adjust your strategy accordingly.
Pricing Modifications
Track any changes in pricing. A competitor lowering their prices or offering new promotions could impact your sales and might require a response.
Staying Updated with Market Trends
Aside from monitoring competitor actions, it's also important to stay abreast of broader market trends.
Industry News and Reports
Regularly read industry news and reports to keep an eye on emerging trends, new technologies, or regulatory changes that could impact your business.
Customer Feedback
Pay attention to feedback from your own customers. They can often provide insights into new market demands or areas where your competitors are outperforming you.
Networking and Events
Participate in industry events and networking groups. Conversations with peers can offer valuable insights into trends and competitor actions.
Tools for Monitoring Competitors and Trends
Leveraging various tools can make the process of monitoring competitors and market trends more efficient.
Google Alerts
Set up Google Alerts for competitor names, industry keywords, and trends to receive notifications when new content is published.
Social Media Listening Tools
Use social media listening tools like Hootsuite or Brandwatch to monitor mentions of your competitors or industry terms across social media platforms.
Competitor Analysis Tools
Leverage competitor analysis tools like SEMrush or SimilarWeb to track competitors' website traffic, backlinks, and keyword rankings.
References

[1] What's a Competitive Analysis & How Do You Conduct One?
[2] Market research and competitive analysis
[3] How to Do a Competitive Analysis
[4] Competitive Analysis
[5] What Is a Competitive Analysis?