Return on Investment: Measuring the Success of Your Marketing Efforts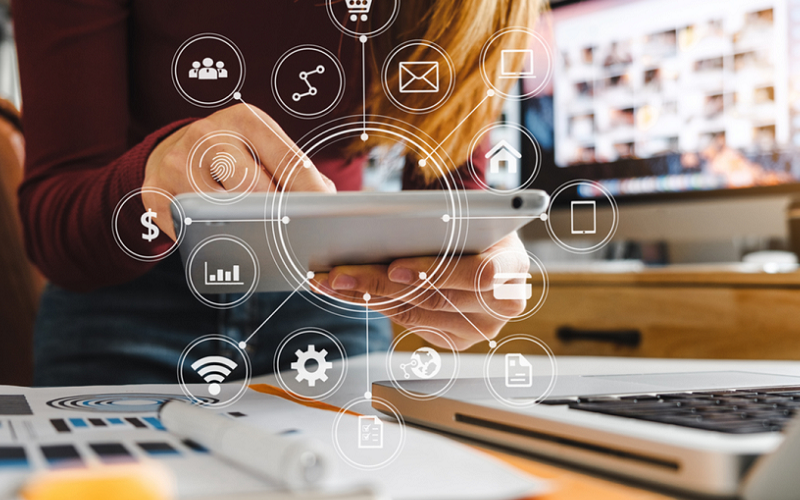 The crucial topic of measuring return on investment (ROI) often sparks conversation amongst entrepreneurs, marketers, and business owners alike. With the vast array of marketing strategies at our disposal today, understanding how to measure their effectiveness is vital for any business, big or small. Here we demystify the concept of ROI and examine its importance within the realm of marketing.
Understanding Return on Investment (ROI) in Marketing
Marketing efforts form an essential component of a business strategy, aimed at reaching out to potential customers, communicating the value of your products or services, and ultimately driving sales. With the investments that go into marketing, it is crucial to understand the concept of Return on Investment (ROI) and its particular application in the marketing context.
Definition of Marketing ROI
Marketing ROI, in essence, measures the profit generated from specific marketing activities divided by the cost of those activities. It allows businesses to gauge the effectiveness and efficiency of their marketing efforts by attributing monetary value to these efforts' outcomes. It is expressed as a percentage; a positive marketing ROI indicates that your marketing efforts have generated more revenue than they cost, while a negative ROI suggests the opposite.
Importance and Benefits of Understanding Marketing ROI
Understanding marketing ROI is pivotal for numerous reasons. Firstly, it provides a clear picture of whether your marketing efforts are yielding the desired financial returns. A positive ROI means your marketing investments are paying off, while a negative ROI signifies a need for strategy adjustments.
Moreover, understanding marketing ROI enables you to compare the effectiveness of different marketing strategies. By doing this, you can identify which efforts yield the highest return and thereby focus your resources on these successful strategies.
Additionally, tracking marketing ROI aids in forecasting future marketing budgets. It can help you project potential returns from future marketing efforts based on past ROI calculations, which can be instrumental in strategic planning and resource allocation [1].
Common Misconceptions about Marketing ROI
While the concept of ROI is straightforward, applying it to marketing efforts can sometimes be misconstrued. One common misconception is that ROI is the only metric that matters. While ROI is essential, other non-monetary metrics, such as customer engagement and brand awareness, can also provide valuable insights into your marketing efforts' effectiveness.
Another misconception is that marketing ROI can be seen immediately after a campaign is launched. Marketing, especially those efforts geared towards building brand awareness or loyalty, often takes time to yield returns. Patience, consistent monitoring, and evaluation are crucial when assessing marketing ROI.
Lastly, it's important to note that a higher ROI does not always equate to a better outcome. Sometimes, lower ROI efforts may contribute to long-term objectives like customer retention and loyalty, which might not translate into immediate financial gains but can significantly impact the business in the long run.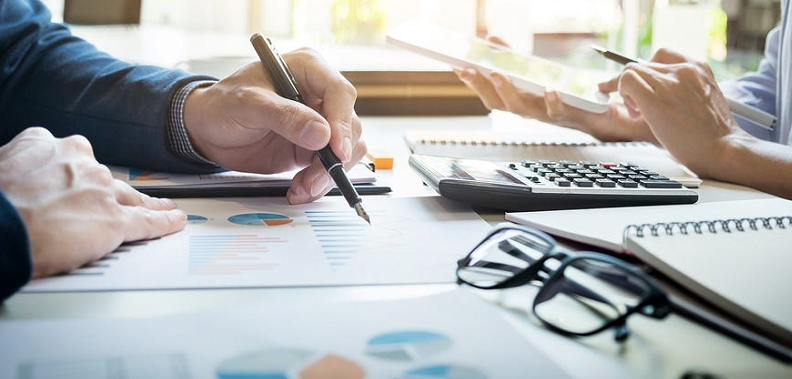 Key Components of Marketing ROI
The core components of marketing ROI consist of investment (the cost of your marketing efforts), return (the benefits gained from these efforts), and profit (the net gain after investment costs). Grasping these fundamentals will give you a comprehensive understanding of what goes into calculating Marketing ROI.
Investment: Cost of Marketing Efforts
Investment in this context refers to the total expenses associated with your marketing campaigns. These can include a wide array of costs, such as advertising expenditure, costs of creating and distributing marketing content, fees for marketing consultants or agencies, software or tools used in marketing efforts, and even the wages of marketing employees. When calculating your marketing ROI, it's crucial to include all costs to accurately determine the total investment.
Return: Benefits Gained from Marketing Efforts
Return, in the context of marketing ROI, refers to the monetary benefits your business gains from your marketing efforts. This is typically measured in terms of revenue generated directly from these efforts. For instance, if your marketing campaign leads to increased product sales, the additional revenue from these sales constitutes the return [2].
Measuring return can often be challenging, especially when attempting to attribute specific sales to particular marketing efforts. Therefore, it's essential to have robust tracking mechanisms in place, which we will delve into later in this guide.
Profit: Net Gain After Investment Costs
Profit is the difference between your return and investment. It represents the net gain from your marketing efforts after accounting for all associated costs. Profit is a vital component in determining your marketing ROI as it provides a clear indication of whether your marketing efforts have led to financial gains.
In the context of marketing ROI, the profit from a particular marketing effort is divided by the cost of that effort, and the result is multiplied by 100 to express it as a percentage. The higher the percentage, the more profitable your marketing effort is considered to be.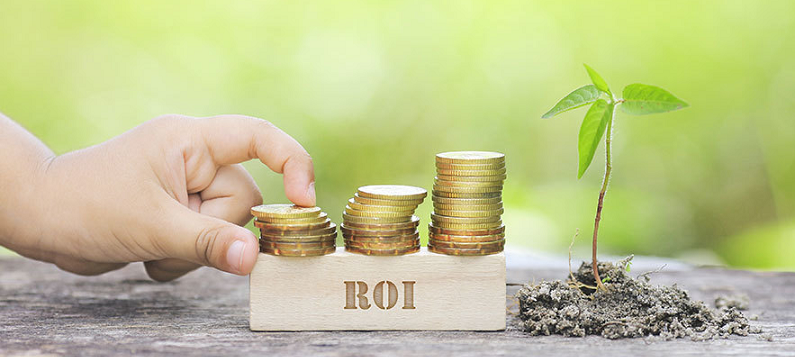 Differentiating Between Different Types of ROI
Marketing ROI isn't just about calculating financial returns. Other types of ROI can provide crucial insights into aspects like brand awareness, customer engagement, or long-term customer value.
Financial ROI
Financial ROI is perhaps the most straightforward and commonly used type of ROI. It measures the direct financial return from your marketing efforts compared to the cost of those efforts. It's calculated by subtracting the cost of the marketing investment from the revenue it generated, then dividing this by the cost of the investment and multiplying by 100 to get a percentage.
Branding ROI
Branding ROI, on the other hand, looks at the value generated from efforts to build, strengthen, or change your brand image. While more challenging to quantify, methods such as surveys to measure brand recognition or sentiment, or tracking indirect results like increased website traffic or social media engagement, can help quantify branding ROI.
Customer Lifetime Value ROI
Customer Lifetime Value (CLV) ROI considers the long-term value a customer brings to your business, rather than just immediate sales. This involves calculating the projected revenue from a customer over the duration of their relationship with your business, considering factors like purchase frequency and average order value. Marketing efforts that aim to build customer loyalty and repeat business contribute to CLV ROI [3].
Social Media ROI
With the ubiquity of social media in today's digital age, measuring Social Media ROI has become increasingly essential. This type of ROI evaluates the effectiveness of social media marketing campaigns. It can involve a range of metrics, from lead generation and conversion rates to engagement metrics like shares, comments, and likes. Social Media ROI can also influence other types of ROI, such as branding ROI or even financial ROI, depending on your social media marketing goals.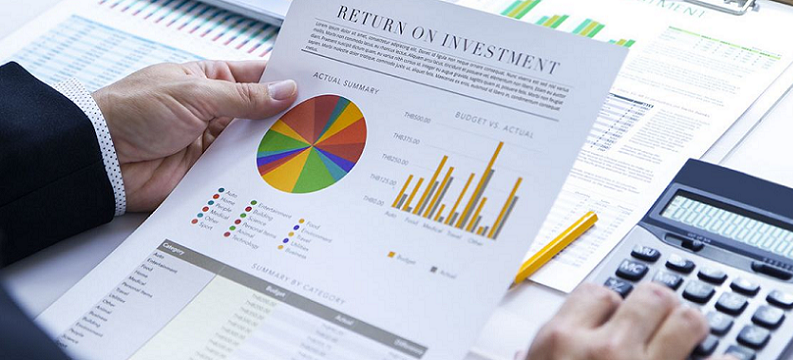 Step-by-Step Guide to Calculating Marketing ROI
Knowing how to calculate your marketing ROI effectively is a crucial skill in managing and growing your business. It can guide your marketing strategies, aid in budgeting, and ultimately enhance your business's profitability. While the calculations can seem daunting initially, we've broken down the process into manageable steps.
Identifying and Quantifying Costs
The first step in calculating your marketing ROI involves identifying and quantifying all costs associated with your marketing efforts. As mentioned earlier, this includes direct costs like advertising expenditure, production costs for marketing content, marketing software or tools, and wages for marketing employees. It also includes indirect costs such as overhead expenses attributed to your marketing department. Ensure to keep comprehensive records of all these costs to make this step easier.
Tracking and Measuring Revenue Generated
Next, you need to track and measure the revenue generated from your marketing efforts. This can be challenging, especially for strategies aimed at long-term returns like branding or customer loyalty campaigns. However, using robust tracking systems, such as unique URLs for digital marketing campaigns, CRM systems, or specific discount codes, can help attribute revenue to specific marketing efforts.
Calculating Profit
After identifying your costs and revenues, you can calculate your profit by subtracting the total cost from the total revenue generated by your marketing efforts. A positive number indicates that your marketing efforts have led to financial gains, while a negative number suggests that the costs outweigh the returns.
Evaluating Marketing ROI
Finally, evaluate your marketing ROI by dividing the profit from your marketing efforts by the total cost, then multiplying the result by 100 to express it as a percentage. A positive marketing ROI indicates that your marketing efforts have been profitable, while a negative ROI suggests a need for strategy adjustments [4].
Illustrative Examples
Let's consider an illustrative example: suppose you spent $5,000 on a marketing campaign, and as a result, made $20,000 in sales. Your profit would be $20,000 – $5,000 = $15,000. The ROI would then be ($15,000/$5,000) * 100 = 300%. This means that for every dollar spent on this campaign, you made three dollars back.
Interpreting and Applying Marketing ROI Results
Having calculated your marketing ROI, the next step is to interpret what these figures mean and how they can be applied to inform your business decisions. A well-interpreted ROI can provide invaluable insights into your marketing strategies' effectiveness, inform your budgeting, and shape your future marketing efforts.
Understanding What Your Marketing ROI Tells You
Your marketing ROI tells you the profitability of your marketing efforts. A positive ROI indicates that your marketing campaigns are generating more revenue than they cost, demonstrating their effectiveness. On the other hand, a negative ROI suggests that the costs of your marketing efforts outweigh their returns, indicating a need for adjustment.
It's essential to interpret these figures in the context of your specific business. For instance, an ROI of 50% may be considered excellent in one industry but below average in another. Also, consider the impact of various types of ROI. For example, a lower financial ROI might be acceptable if it's associated with significant gains in brand recognition or customer loyalty [5].
Using Marketing ROI to Inform Budgeting
Your marketing ROI can play a crucial role in informing your budgeting decisions. By comparing the ROIs of different marketing strategies, you can identify which efforts yield the highest returns. This can guide you to allocate more resources to these successful strategies and less to those with lower ROIs.
Furthermore, tracking marketing ROI over time can help you forecast future marketing budgets. By examining past ROI figures, you can project potential returns from future marketing efforts, which can be instrumental in strategic planning and resource allocation.
Applying Marketing ROI to Future Marketing Strategies
Lastly, your marketing ROI can shape your future marketing strategies. A high ROI from a particular marketing effort might suggest that similar strategies could be successful in the future. Conversely, a low ROI could indicate a need for new approaches.
Moreover, understanding the factors contributing to your ROI, such as the effectiveness of different marketing channels or the impact of various marketing messages, can provide insights into how to optimize future marketing efforts.
References

[1] How to Calculate the Return on Investment (ROI) of a Marketing Campaign
[2] What is Marketing ROI and How Do You Calculate It?
[3] A Simple Guide to Marketing ROI [Formula & Examples]
[4] How to Measure ROI for Digital Marketing Campaigns (and When You Shouldn't)
[5] How to measure marketing ROI