Color Psychology in Business Branding: How to Choose a Winning Palette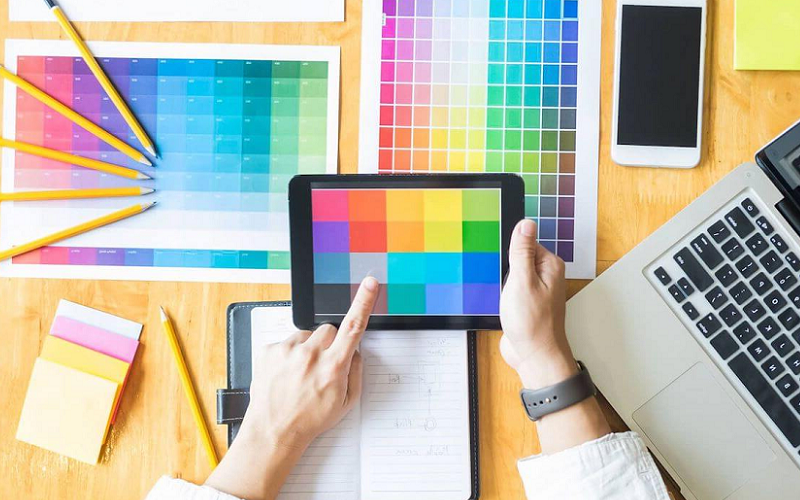 In the world of business, where every decision can make a significant impact on your bottom line, choosing the right colors for your brand might seem like a minor detail. However, colors hold power beyond their aesthetic appeal. They carry subconscious messages, evoke emotions, and play a pivotal role in the way your brand is perceived. This is where color psychology comes into play, a fascinating field of study that marketers and brand specialists can't afford to ignore.
Introduction to Color Psychology
Color, as a crucial element of branding, is not merely about visual appeal. It's a form of non-verbal communication that influences consumer perceptions at a subconscious level. It can enhance brand recognition, differentiate your brand from competitors, influence buying behavior, and ultimately drive customer loyalty. A study by the Pantone Color Institute even found that up to 90% of snap judgments made about products can be based on color alone. Thus, the importance of color in branding is impossible to overlook.
Color psychology is the study of how colors affect human behavior and decision-making. Each color elicits specific emotions and reactions, which can be leveraged by businesses to create a desired perception of their brand. For instance, red is often associated with passion and urgency, while blue can convey trust and reliability.
Recognizing and utilizing these associations is a powerful tool for brands. It's not about picking your favorite color, but about choosing the colors that will effectively convey your brand's identity and resonate with your target audience. With this understanding, let's plunge into the profound world of color psychology and its impact on branding.
Understanding Color Psychology
To make the most out of color in your branding strategy, you first need to understand the basics of color psychology.
Definition and Explanation of Color Psychology
Color psychology is a branch of behavioral psychology that explores the effects of color on human behavior and emotion. It aims to understand how color influences our decisions, such as what we buy, what we eat, or even how we feel. Each color, including different shades and tints, has the potential to trigger specific emotional responses. For example, yellow often conveys a feeling of happiness and optimism, while green is typically associated with peace and tranquility.
Importance of Color Psychology in Branding
In the context of branding, color psychology becomes even more intriguing. The colors a brand chooses for its logo, website, packaging, and other visual elements can significantly influence how it's perceived by consumers. Color helps to communicate a brand's personality, convey its values, and create differentiation in the market. When used effectively, color can stimulate purchase and deepen customer loyalty. It's a subtle yet powerful way of creating a connection with consumers on an emotional level, which is a critical factor in today's competitive business landscape [1].
Brief History of Color Psychology
While the practice of using color to influence behavior can be traced back to ancient times – think of the Egyptians using color in healing practices – color psychology as we understand it today has its roots in the 19th and early 20th centuries. Artists and theorists such as Johann Wolfgang von Goethe and Wassily Kandinsky have made early explorations into the emotional effects of colors. However, it was only in the mid-20th century that color psychology began to be applied in marketing and branding, with companies recognizing that strategic color choices can significantly enhance a brand's success. Today, color psychology is a key element in branding strategies around the globe.
The Connection Between Color and Emotion
A key aspect of color psychology lies in the connection between color and emotion. Colors have the power to evoke a wide spectrum of emotional responses. To leverage color psychology in branding, it's crucial to understand these emotional associations. Additionally, it's important to remember that cultural factors can influence color perception, so businesses must be mindful of their target audience's cultural context.
The Role of Color in Eliciting Emotional Responses
Each color carries its own set of emotional connotations. For example, red is often associated with excitement, urgency, and passion, while blue is linked to trust, dependability, and tranquility. Yellow typically symbolizes happiness, optimism, and creativity, and green brings to mind feelings of peace, growth, and health. These associations aren't random but stem from a combination of biological, cultural, and individual factors. By understanding these emotional ties, businesses can strategically choose colors that align with their brand message and desired customer experience.
The Impact of Culture on Color Perception
While there are common emotional responses to colors, it's also crucial to understand that cultural factors can influence color perception. For instance, while white is often associated with purity and innocence in Western cultures, it's the color of mourning in some Eastern cultures. Similarly, the color red signifies luck and prosperity in Chinese culture, while it may represent danger or warning in others. Therefore, when selecting your brand's colors, consider the cultural context of your target audience [2].
Overview of Common Emotional Associations with Colors
To provide a more comprehensive understanding, let's delve into some of the most commonly used colors in branding and their typical emotional associations:
Red: This is a color of passion, excitement, and energy. It also stimulates appetite, making it a popular choice for food brands.
Blue: Associated with trust, dependability, and calmness, blue is often used by tech, healthcare, and financial institutions.
Green: Symbolizing nature, health, and growth, green is often used by organic, eco-friendly, and wellness brands.
Yellow: Representing happiness, optimism, and creativity, yellow can be an excellent choice for creative businesses or children's products.
Black: This color conveys a sense of power, luxury, and sophistication. It's a common choice for high-end and luxury brands.
White: Associated with purity, simplicity, and cleanliness, white is frequently used by healthcare, skincare, and minimalist lifestyle brands.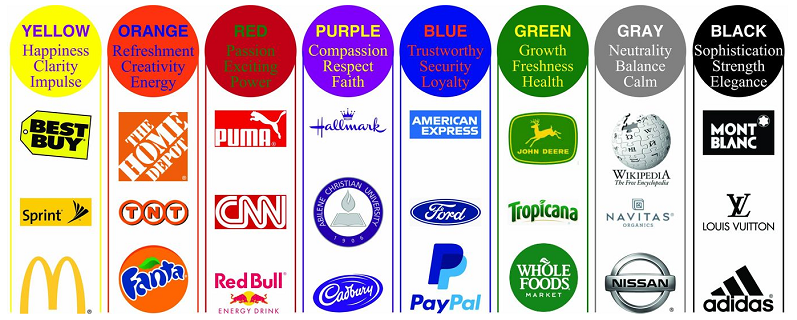 The Impact of Color on Brand Perception
After understanding the basics of color psychology and its emotional implications, it's time to dig deeper into how color impacts brand perception. The colors a brand chooses can play a significant role in how consumers perceive the brand's personality, quality, and reliability.
Case Studies on Successful Use of Color in Branding
Let's explore a few examples of companies that have used color to their advantage in shaping brand perception.
Coca-Cola
The brand's iconic red color is synonymous with excitement, energy, and passion, reflecting the brand's lively and upbeat personality. The Coca-Cola red is so iconic that it's instantly recognizable, contributing significantly to the brand's massive global recognition.
Tiffany & Co.
The jeweler's distinctive "Tiffany Blue" color exudes a sense of luxury, sophistication, and charm. This color is so tightly tied to the brand that it's instantly associated with high-quality, luxury items.
Starbucks
Starbucks' choice of a deep green color represents tranquility, growth, and freshness, aligning with their commitment to offering high-quality coffee sourced responsibly.
These examples underscore the power of color in influencing brand perception and driving brand recognition.
How Different Colors Influence Brand Perception
The colors you choose for your brand can evoke specific perceptions about your brand's personality [3]. For instance:
Brands that primarily use blue are often perceived as trustworthy, dependable, and secure.
Brands with green as a dominant color are often seen as healthy, peaceful, or eco-friendly.
Black can be associated with sophistication and luxury, making it a popular choice for high-end brands.
Brands using vibrant colors like red or yellow are typically perceived as energetic, friendly, and youthful.
Understanding Your Target Audience's Color Preferences
While it's essential to consider the general emotional and perceptual impacts of different colors, it's equally important to understand your target audience's color preferences. For example, studies suggest that blue is generally favored by both men and women, making it a safe choice for brands targeting a wide demographic.
On the other hand, if your target audience is children, vibrant and diverse colors might be more appealing. Similarly, if you're targeting a luxury market, you might lean towards neutral and dark shades, which are often associated with sophistication and exclusivity.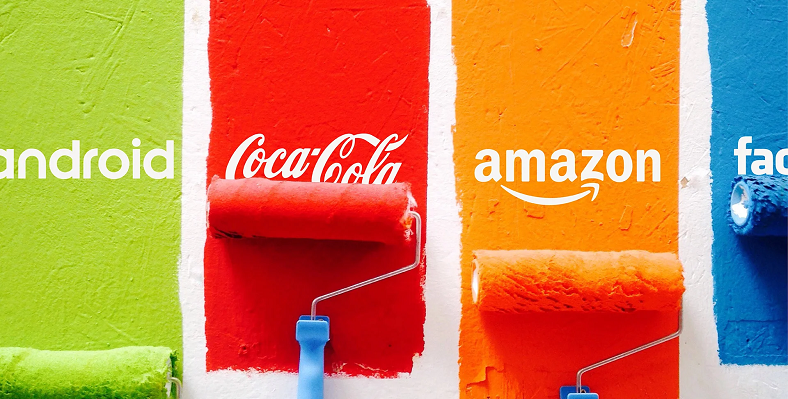 How to Choose a Winning Color Palette for Your Brand
Choosing a color palette for your brand is a critical step in the branding process. While it may seem daunting, having a strategic approach can simplify the task. In this section, we guide you through a step-by-step process to help you select a winning color palette that reflects your brand's personality and resonates with your target audience.
Define Your Brand Personality
Before delving into color choices, start by defining your brand personality. Is your brand playful or serious? Modern or traditional? Luxurious or affordable? Understanding your brand's personality is crucial as it forms the foundation for your color selection. You'll want to choose colors that reflect these traits and send the right message to your audience.
Research Your Audience's Color Preferences
Next, research your target audience's color preferences. Remember, color perception can be influenced by various factors including age, gender, and cultural background. Use demographic and psychographic data to understand your audience's preferences and align your color choices accordingly [4].
Consider Industry Trends and Competitors
Look at the color palettes of other businesses within your industry. This can give you an idea of what colors your audience might already associate with the products or services you offer. While it's important to stand out from competitors, it's also beneficial to understand industry trends to ensure your brand doesn't seem out of place.
Choose Your Dominant Color
Based on your brand personality, audience preferences, and industry trends, choose a dominant color that best represents your brand. This color will be the most prominently used in your brand elements and should resonate most strongly with your brand identity.
Choose Supporting Colors
After selecting a dominant color, choose supporting colors to complete your palette. These colors should complement your dominant color and add visual interest. A common approach is to choose one or two neutral colors (like white, grey, or black) and an additional secondary color that contrasts with your dominant color.
Test and Iterate
Finally, don't be afraid to test and iterate your color palette. Get feedback from your audience, or use A/B testing to see which colors perform best. Remember, while color psychology provides a good starting point, it's still essential to validate your choices with real-world data. Be open to tweaking your palette as you grow and better understand your audience.
Common Mistakes in Choosing a Brand Color Palette
Choosing a color palette for your brand is an art that requires a strategic approach. While the process can be exciting, it's easy to fall into certain pitfalls. Recognizing and avoiding these common mistakes can help you select a color palette that effectively communicates your brand's identity and appeals to your audience.
Choosing Colors Based on Personal Preference
One of the most common mistakes in choosing a brand color palette is relying solely on personal preference. While it's essential for you to like your brand's colors, it's more important that these colors resonate with your target audience and align with your brand personality. Be sure to base your color decisions on research and strategy, rather than personal taste alone.
Ignoring the Competition
While it's important to differentiate your brand, ignoring what your competitors are doing can be a mistake. Your audience will have certain expectations for your industry, and part of those expectations will be shaped by the existing brands they know. Understanding your competitors' color choices can provide valuable insights into industry trends and audience expectations.
Overcomplicating Your Color Palette
A complex color palette with too many colors can dilute your brand message and confuse your audience. It's generally best to stick to a simple palette with a dominant color and a few supporting colors. Remember, simplicity can lead to a more recognizable and memorable brand [5].
Not Considering Different Contexts
Consider how your color palette will look across various platforms and in different contexts. Will your colors look as good on a digital screen as they do in print? Do they stand out against both light and dark backgrounds? Testing your color palette in a variety of applications can prevent potential issues down the line.
Neglecting Cultural Differences
As mentioned earlier, color perceptions can vary widely across different cultures. If your brand caters to a global audience, it's essential to understand these cultural nuances. A color that is viewed positively in one culture might have negative connotations in another, so always do your research to ensure your colors are appropriate for all your target markets.
The Role of Color in Logo Design
Your logo is often the first visual element that people associate with your brand. As such, the color choices for your logo play a significant role in shaping your brand identity and influencing how your brand is perceived.
Significance of Color in Logo Design
Color is one of the most impactful elements in a logo design. It has the power to convey emotions, evoke feelings, and communicate your brand's personality, all at a glance. A well-chosen color can help your logo stand out, increase brand recognition, and influence consumer behavior. In fact, studies suggest that color can increase brand recognition by up to 80%.
Aligning Logo Color with Brand Identity
When selecting colors for your logo, it's crucial to ensure that they align with your brand identity. The colors should reflect the personality traits and values that your brand embodies. For instance, a tech company that values trust and reliability might opt for a blue logo, while a health food company emphasizing natural and organic products might choose green.
Importance of Simplicity and Versatility
In logo design, simplicity and versatility are key. A logo should look good in various contexts, sizes, and backgrounds. This means your color choices should not only work well together but also retain their impact in black and white or grayscale versions. As a rule of thumb, avoid using too many colors in your logo. Typically, one to three colors should suffice.
Examples of Effective Use of Color in Logos
To illustrate the effective use of color in logos, let's consider a couple of examples.
Apple
The Apple logo is a perfect example of a simple yet impactful logo. It's usually presented in a monochromatic color scheme, either black or white, depending on the background. This minimalist approach aligns with Apple's brand identity of sleek and simple design.
McDonald's
The McDonald's logo, known as the Golden Arches, is instantly recognizable by its golden yellow color. The choice of yellow, a color associated with happiness and positivity, aligns well with the brand's aim to create a fun and friendly dining experience.
Practical Tips for Choosing Logo Colors
Here are a few practical tips for choosing colors for your logo:
Start with black and white: Begin your logo design in black and white to focus on its structure and form. Once you're satisfied with the design, you can then start experimenting with colors.
Limit your palette: Stick to a simple color palette. Too many colors can make your logo look chaotic and reduce its recognizability.
Consider contrast: Ensure there's enough contrast between your logo colors. This will make your logo stand out and improve its legibility.
Test across different contexts: Make sure your logo colors look good across various applications, both digital and print, and on different backgrounds.
References

[1] Color Psychology: How To Use it in Marketing and Branding
[2] Brand Color Psychology: Why Colors Matter in Brand Marketing
[3] Guide to Color Psychology in Marketing
[4] The Psychology of Colors in Marketing and Branding
[5] What Brand Colors Can Reveal About Your Business